With smartphones crossing the acceptable screen size mark every year, phablets are now a mainstream thing. Majority of the devices from manufacturers generally ship with a display of 5 inches or more. In this post, we would specifically discuss the device that are pure phablets in their original form, and by 'pure phablets' we mean hovering in the range of 5.5-6 inch display region. These devices provide you plenty of display area for fiddling away at work or enjoying your daily dose of YouTube videos. Be it work, leisure or media consumption, here is the comparison and analysis of top 3 phablets available in the market right now – Apple iPhone 6 Plus, Samsung Galaxy Note 4 and Google Nexus 6. Read on for the ultimate phablet showdown and find out which device offers best experience and bang for your buck !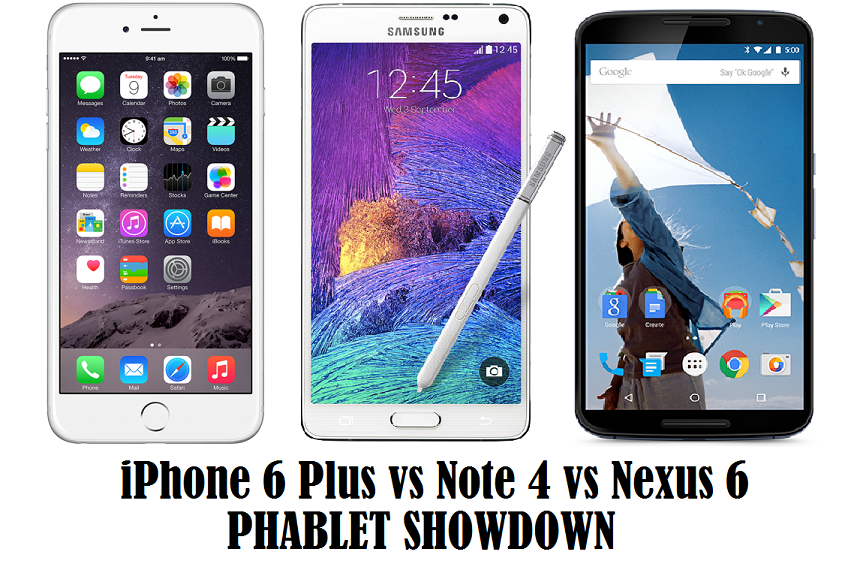 Specifications and Features Comparison: Apple iPhone 6 Plus vs Galaxy Note 4 vs Google Nexus 6
Device/Features
Nexus 6
Galaxy  Note 4
iPhone 6 Plus
Price
Rs. 44000/49000
Rs. 58000
Rs. 62500
Display
5.96 inch AMOLED – Gorilla Glass 3
5.7 inch Super AMOLED – Gorilla Glass 3 (2.5D)
5.5 inch IPS LCD – Shatterproof Glass
Resolution
1440×2550 – 493 ppi
1440×2560 – 515 ppi
1080×1920 – 401 ppi
SoC
Qualcomm Snapdragon 805
Qualcomm Snapdragon 805
Apple A8
CPU
Quad Core 2.7 GHz Krait 450
Quad Core 2.7 Krait 450
Dual Core 1.4 GHz
GPU
Adreno 420
Adreno 420
PowerVR GX6450
RAM
3 GB
3 GB
1 GB
Memory
32/64 GB
32 GB
16/64/128 GB
MicroSD
No
Yes – upto 128 GB
No
Battery
3220 mAh – Li-Po Fixed
3220 mAh – Li-Ion Removable
2915 mAh – Fixed
Camera
13 MP, OIS, AF, Dual LED Flash, 4K Recording
16 MP, OIS, AF, LED Flash, 4K Recording
8 MP, OIS, AF, Dual Tone LED Flash,
240 fps Slow Motion Recording
Front Camera
2 MP
3.7 MP Wide Angle
1.2 MP
Connectivity
2/3/4G LTE, Wi-Fi a/b/g/n/ac Dual band,
BT 4.1 LE, NFC
2/3/4G LTE, Wi-Fi a/b/g/n/ac Dual band,
BT 4.1 LE, NFC, IR Blaster
2/3/4G LTE, Wi-Fi a/b/g/n/ac Dual Band, Bluetooth 4.0, Locked NFC
OS
Android 5.0 Lollipop
Android 4.4 KitKat – TouchWiz
iOS 8
Extras
Dual Front Speakers, Wireless Charging,
Water Resistance
Fingerprint Sensor, Heart Rate Monitor,
Enhanced Multitasking, S Health, S Pen
Fingerprint Sensor, Apple Pay
Design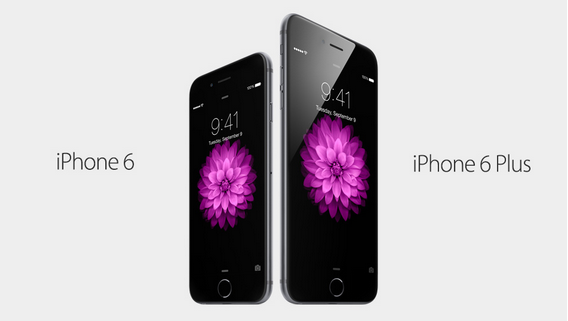 Apple's iPhone 6 Plus offers a rather sleek and flat design in an aluminium shell. It's crazy thin at just 7.1 mm and has the industry leading build quality and choice of materials. It is however worth noting that beauty comes at its own price, the iPhone 6 Plus feels slippery in hand and its sheer size only helps to compromise its stability in hand.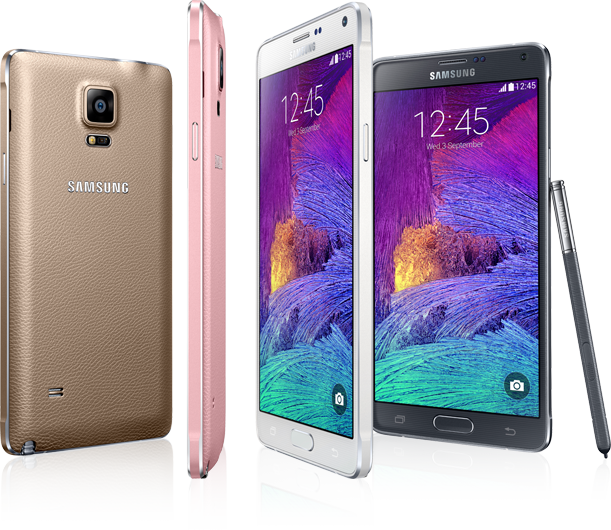 Galaxy Note 4 comes with a metal ribbon enclosing the phone which is a first from Samsung. It renders the device a great feel and provides great grip in the hand.The 2.5D Gorilla Glass gives it a seamless finish and display appears to 'melt' on to the side body of the device.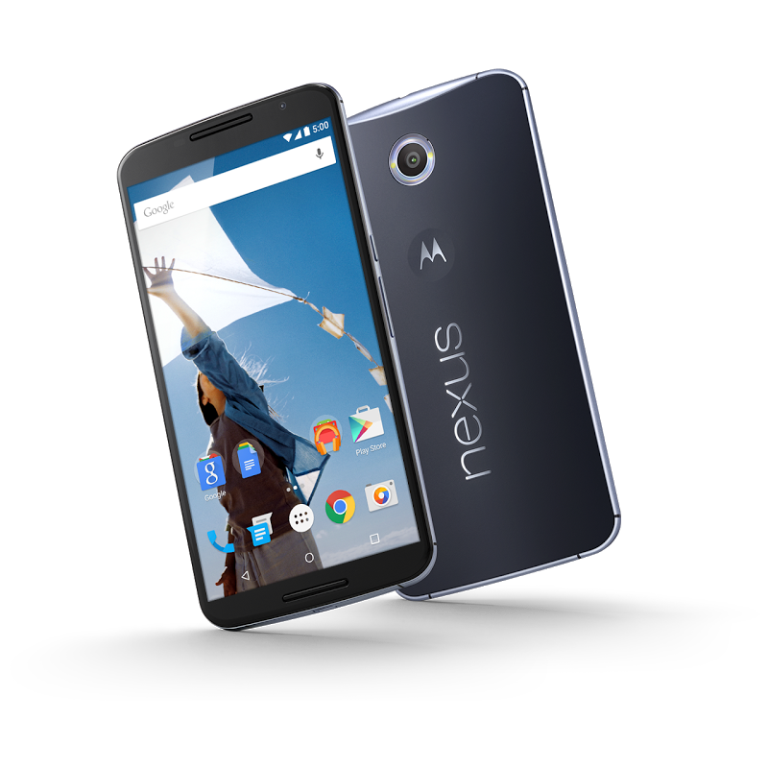 Nexus 6 comes with a combination of metal frame and plastic back panel as the Note 4. The bezels on the device are minimalistic, but still it is the largest device in this comparison because it sports the largest display- kudos to Motorola for making it possible.
Display
iPhone 6 Plus has a 5.5 inch 1080p LCD unit which they refer to as Retina HD. Samsung and Motorola took it to the next level with Note 4 and Nexus 6 through Quad-HD AMOLED displays (2560×1440 Resolution).
Note 4 has a 5.7 inch display with overly saturated colors and great, deep blacks. Also, color tone can be selected from a variety of presets according to your taste. Note 4's display has been rated as one of the best mobile displays in the world.
Nexus 6 has a 5.96 inch display (with 2.5D curved Gorilla Glass) which also comes with adaptive display (selective power functionality of AMOLED panel). Unfortunately, there is no option to change the color tone here, but Android Lollipop looks & feels wonderful on this pixel dense display.
Processing Power
Before bashing iPhone here for its low end specifications as compared to its Android competitors, keep in mind that Apple's chips require less power in order to work with highly developed software for a streamlined user experience. Qualcomm's Snapdragon 805 based CPU (present in Note 4 & Nexus 6) is an absolute beast when it comes to performance and also support the latest features that can be found on smartphones.
All the three devices offer class leading performance be it multitasking or graphic intensive games. Throw anything at these devices and they'll handle it without breaking a sweat.
Operating System/Software Features
The biggest divide between phablets is the OS and software features they offer to the consumers. Galaxy Note 4 comes with a kitchen sink approach towards software additions for multitasking with its stylus, multiwindow and much more. It feels like an overkill at first but once you're past the learning curve, the Note 4 is an ultimate productivity device.
Nexus 6 with stock Android 5.0 offers clean, unobtrusive and beautiful experience for the user. It's a shame that Google didn't offer any software customization for utilizing the massive display.
iPhone 6 Plus with iOS 8 offers reliable and safe walled garden approach to consumers with one of the very best apps available in the App Store. iOS 8 opened the operating system to third party keyboards, widgets and inter app communication. However we feel that it is still catching up to Android in many aspects.
Camera
Apple's iPhone 6 Plus comes with 8 MP primary camera but make no mistake – it is one of the very best smartphone camera experiences money can buy right now. It doesn't come with 4K video recording support though.
Samsung Galaxy Note 4 with its 16 MP camera is a solid performer and offers various scene modes and a wide angle front facing camera.
Nexus 6 comes with a minimalist camera interface but that can be easily fixed by a 3rd party camera app from Play Store. Camera has never been a strong point for Nexus devices but Nexus 6 fares great and offers splendid results.
Pricing
Although none of the devices in this comparison comes cheap, pricing is still an important criteria for the consumer. Apple, as usual has gone insane with the pricing clocking the iPhone 6 Plus at Rs. 62,500 for the 16 GB variant. Galaxy Note 4 costs Rs. 58,000 (MicroSD Expansion present) and Google Nexus 6 costs Rs. 44,000/49,000 for the 32/64 GB variant.
Nexus 6 comes with the best price tag at the moment and the price difference is pretty wide between the devices. Ultimately it comes down to software and ergonomic preference of the user but we believe that Note 4 and iPhone 6 Plus carry rather exorbitant price tags.
Final Thoughts: Apple iPhone 6 Plus vs Galaxy Note 4 vs Google Nexus 6
As we compared these three heavyweights in different categories, it is pretty clear that none of the devices comes out on top. One slight shortcoming in one area is overshadowed by excellence in other category. You can't really go wrong with any of these devices.
iPhone 6 Plus is a beautiful device which comes with a great camera and software experience on board but the pricing is a major setback. Seriously what was Apple thinking? Samsung built a beautiful device with a gorgeous display and multitasking features but we're let down by the sheer amount of software junk TouchWiz brings along. Fingerprint Sensor & Heart Rate monitor are a hit or miss affair. Nexus 6 not only offers the best value for money, but also the promise to quick software updates and clean, unobtrusive software interface devoid of any bloatware. Front facing stereo speakers, wireless charging, water resistance and rapid charging add to its value.
What device would you choose from these three? Let us know and post it in the comments section!
Summary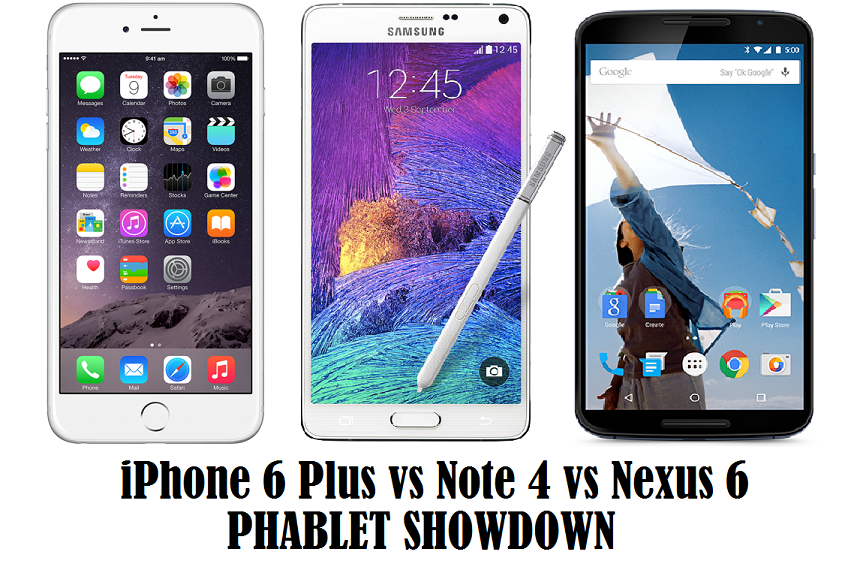 Article Name
Apple iPhone 6 Plus vs Galaxy Note 4 vs Google Nexus 6: Top Phablets Comparison
Description
Detailed comparison and analysis of top 3 phablets in the market - iPhone 6 Plus, Note 4 and Nexus 6. Specifications, price, features overview & final thoughts.
Author
More related stories below: