People nowadays buy expensive smartphones but due to their hectic work life they cannot pay attention to the protection of such expensive phones. And these smartphones once dropped can get the user into trouble by making the user pay for expensive repairs on screen breakage. To resolve this problem faced by smartphone owners, Corning Incorporated, an American glass and ceramic manufacturer has launched its Corning Gorilla Glass 4.
Damage resistant screens are now one of the top most features that the buyers look for while buying a smartphone in the market. Corning Gorilla Glass 4 is designed to protect the screens of smartphones from breaking on being dropped or slipped. This all new glass is claimed to be two times tougher than other rival glasses. According to the company, it will survive 80 per cent of the times when it is dropped, unlike soda lime glass which breaks 100 per cent of the times.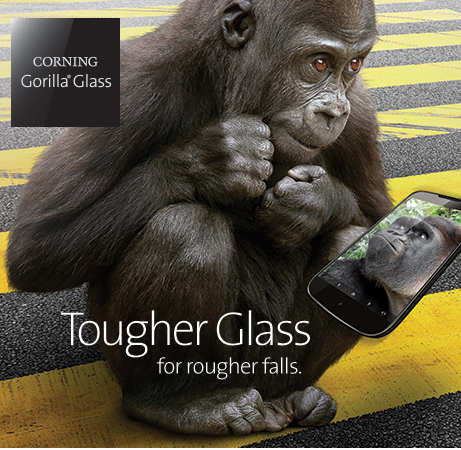 After thousands of hours of hard work, Corning scientists have developed Gorilla Glass 4 which is sleek, durable and has an amazing drop performance and touch. From 2007, the year in which it was launched till now, Gorilla Glass has been embraced by more than 3 billion devices (1395 product models by over 40 manufacturers). Corning says that the Gorilla Glass 4 product sampling and shipments are under way.
Features of Corning Gorilla Glass 4
0.4 mm – 2.0 mm thicknesses
Damage and scratch resistant
Excellent surface quality
Superior drop performance
Durable and maintains optical clarity
Amazing touch with great response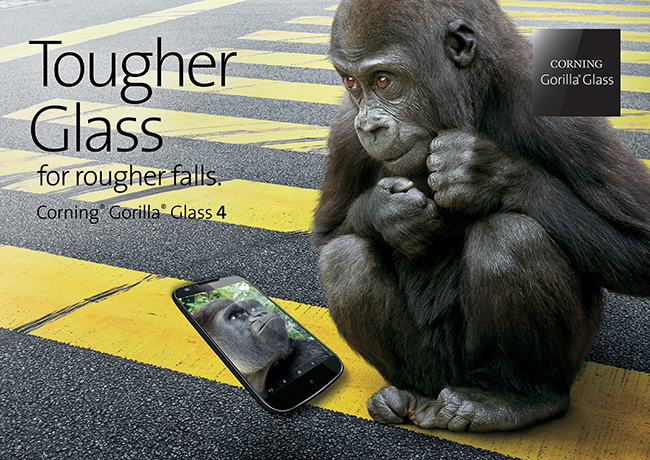 "Corning Gorilla Glass has outperformed competing materials, such as  soda-lime glass and other strengthened glass, since it was introduced in 2007, and we're always innovating to push the limits of what glass can do," "With Gorilla Glass 4, we have focused on significantly improving protection against sharp contact damage, which is the primary reason that mobile devices break. Dropping and breaking a phone is a common problem, and one that our customers have asked us to help address." said James R. Steiner, Senior Vice President and General Manager, Corning Specialty Materials.
Official Video- Corning Gorilla Glass 4
It is a common scenario that smartphones slips from hands of the user and drops with front facing down. The phones with fragile screens often break. Gorrila Glass 4 which is more tougher than any other competing glass promises to survive maximum of the drops. Gorilla Glass 4 is designed to handle face down drops of the mobile devices. Gorilla Glass 4 is not only suitable for smartphones but it may also be used in laptops, tablets, notebooks other mobile devices and even in automotives. It will help the automotive manufacturers in weight reduction of vehicles with its light weight and thinness.
Summary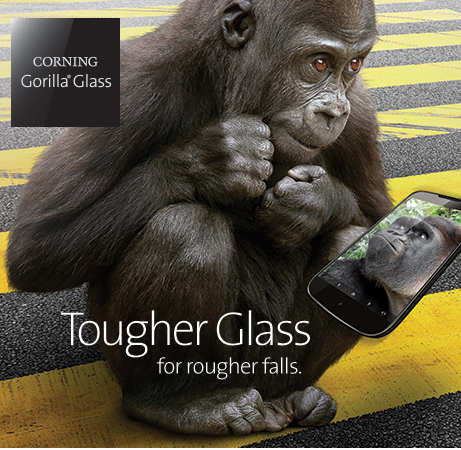 Article Name
Corning Gorilla Glass 4- How Much Can It Handle?
Description
Corning Incorporated has launched Corning Gorilla Glass 4 which will solve the phone screen breakage problems of the smartphone users.
Author
More related stories below: