Now that the Galaxy S4 is here, how could the S4 mini be far behind. The images of the Samsung Galaxy S4 Mini have just leaked on to the interweb and it looks like a smaller version of the S4 with a less powerful yet a very capable processor under the hood. Sammobile, the good folks responsible for almost every leak that happens from under the nose of Koreans have seem to have gotten themselves a set of pictures of the S4 mini. The S4 mini will look like a compressed version of the S4 and will have the same design philosophy as the elder sibling.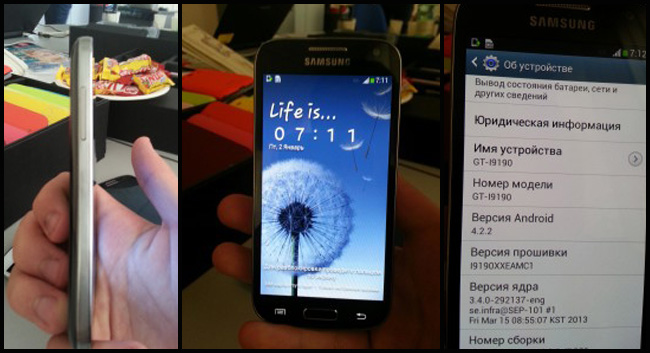 Galaxy S4 mini is expected to have a 4.3 inch Super AMOLED screen with a resolution of 960×540 pixels. The pixel density of the device will stand at 256 pixels per inch and the smartphone will arrive in single as well as dual-SIM variants. Powering it will be a 1.6 GHz dual core processor but certain reports suggest that it might get an Exynos 5210 dual core processor too which Samsung reportedly is working on.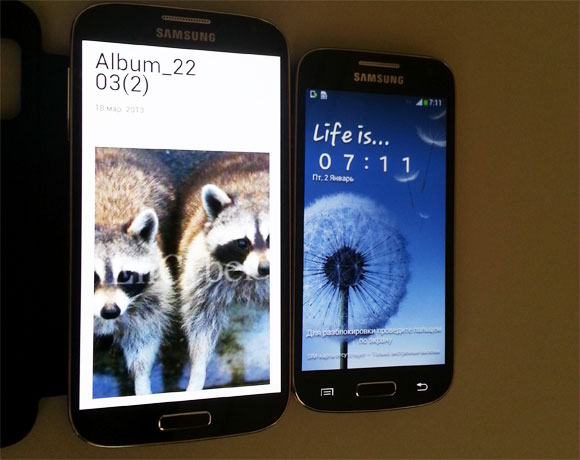 It will run on Android 4.2.2 Jelly Bean and will surely be upgradable to Android 5.0 Key Lime Pie as well. The news doing the rounds on the interweb suggest that it will launch around July 2013 which makes us wonder if it will get the then latest iteration of the Android. The S4 Mini would get a 8 megapixel most probably with the front camera unit being a 2 megapixel one. The S4 mini might as well get a Snapdragon variant too like the elder sibling.
The S4 mini will carry on from where the S3 mini will leave. The S3 mini was priced too steeply and that was the reason it did not really manage to a garner a lot of volumes. The S4 mini will also suffer from the price tag problem according to us because it will sit between the S2 Plus and S3 seeing its specifications. The price difference between the two yesteryear flagships is quite less and the S4 mini is going to have a hard time carving itself a niche in the market.
Source: GSM Arena
More related stories below: