ICC World Cup 2015 is around the corner while all cricket fans are excited to watch the matches with full enthusiasm. But what about those people who can not watch the live matches sitting in front of their TV due to their erratic work schedule? You don't need to worry about that. We are here to solve your problem. In this post, we have listed the apps and websites so that you can easily watch live 2015 World Cup matches on your device, be it a tablet or smartphone. Read on to learn How To Watch 2015 ICC World Cup Live on your smartphone or tablet.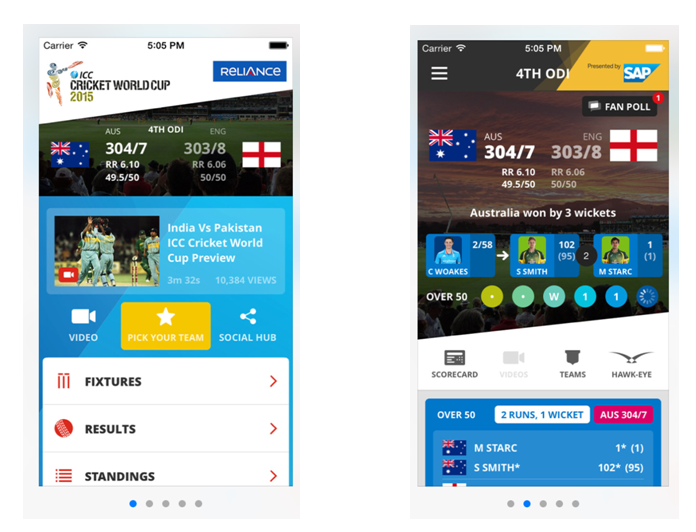 How To Watch 2015 ICC World Cup Live On Your Smartphone
The 2015 World Cup is the 11th World Cup and will be hosted jointly by Australia and New Zealand. The matches will be scheduled starting from 14th February 2015 till 29th March 2015. With the following apps and websites, users can watch live matches, score cards, commentary,  breaking news and much more.
1. ICC Cricket World Cup 2015 App For iOS and Android
This app is available to download from the Apple app store and Google play store for free. The app is designed in collaboration with Reliance communication, especially for cricket lovers and gives full coverage of the tournament like official videos, live scores, highlights, ball-by-ball scores, exclusive interviews, polls and more. This app is compatible with Android phones as well as iPhones, iPads, and iPod touch's running on iOS 7.0 or later.
If you somehow miss a match, you can watch the highlights of the match using this app. With this app on your device, you will not have to keep yourself stuck to the chair in front of your television. You can watch the live updates right on your handset.
2. Start Sports Official Website
Alternatively, cricket enthusiasts can watch live streaming of the matches online on their PC's or smartphones or tablets. There are many websites which offer live streaming, live score, replay videos, and more. Star Sports (http://www.starsports.com/) is one of the websites which allows the cricket lovers to watch live coverage of their matches. Match once  missed can also be watched using the Replay option provided by Star Sports on their website.
Also Read: How To Automatically Delete Old Text Messages On Android Phone & iPhone
More related stories below: