Reliance Jio has been killing it in the Indian market. The telecom operator has captured a large chunk of Indian customers with its free data plans and 4G services. It is the only network that supports Voice over LTE (VoLTE) technology. Now, the aggressive brand has launched a new submarine cable system. The Asia-Africa-Europe (AAE-1) uses state-of-the-art 100Gbps transmission technology. It will bring the new capacity of up to 40 Terabits to the Indian region. Read more to find out the New Submarine Cable System by Reliance Jio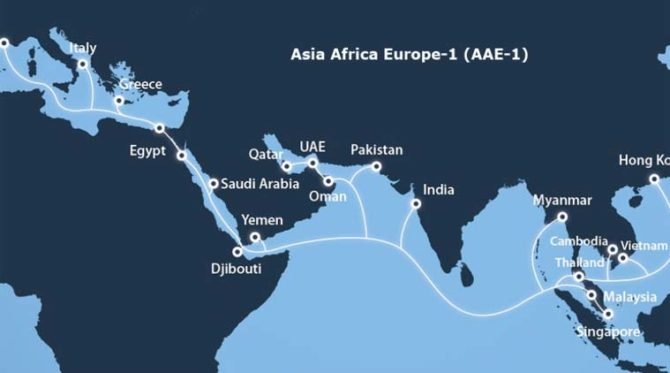 Asia-Africa-Europe 1 (AAE-1) Submarine Cable System
The AAE-1 is the longest 100Gbps technology based submarine system. It will stretch over 25,000 km (from Marseille, France to Hong Kong) with 21 cable landings across Asia and Europe. It is the largest submarine cable in almost 15 years. The large-scale project is a result of collaboration between leading telecom service providers from Europe, the Middle East, and Asia. The cable system has diversified Points of Presence (PoP) in Asia (Hong Kong and Singapore) and three onward connectivity options in Europe (via France, Italy, and Greece). It will offer flexibility and diversity for all carriers and their customers.
Passing through the critical hubs, the AAE-1 will serve the increasing demand for video-centric data bandwidth. It will support all types of communications, applications, and content. The AAE-1 delivers direct access to all global markets by seamlessly linking with other cable systems and fiber networks. Its advanced design and route offer the lowest latency routes between Hong Kong, India, Middle East and Europe. The Reliance Jio provides the Network Operations & Management for AAE-1 Cable System.
The Asia-Africa-Europe 1 (AAE-1) exists with the cooperations of China Unicom, CIL (HyalRoute), Djibouti Telecom, Etisalat, GT5L, Mobily, Omantel, Ooredoo, OTEG, PCCW, PTCL, Reliance Jio, Retelit, Telecom Egypt, TeleYemen, TOT, Viettel, VNPT, and VTC. It connects Hong Kong, Vietnam, Cambodia, Thailand, with Malaysia and Singapore, then onwards to Myanmar, India, Pakistan, Oman, UAE, Qatar, Yemen, Djibouti, Saudi Arabia, Egypt, Greece, Italy, and France.
Also read: How To Download Instagram Photos and Videos
Conclusion
The data consumption among Indian consumers is growing at an accelerated rate. Reliance Jio is the largest 4G and mobile broadband digital services provider in India. The network is planning to further expand its reach. The launch of the Asia-Africa-Europe (AAE-1) submarine cable system adds new terabit capacity and 100Gbps direct connectivity to global content hubs and interconnection points. This will allow Jio to offer high-speed internet and digital service experience to its customers.
More related stories below: