WhatsApp is an essential part of our lives, from sending exam notes to sharing your memories on WhatsApp story, WhatsApp is the most important part of our social media. But in recent years, WhatsApp launched their developer program wherein anyone could become their BETA tester and could test the App's upcoming features before the masses.
Problem- WhatsApp Not Working On Xiaomi MiUi Phones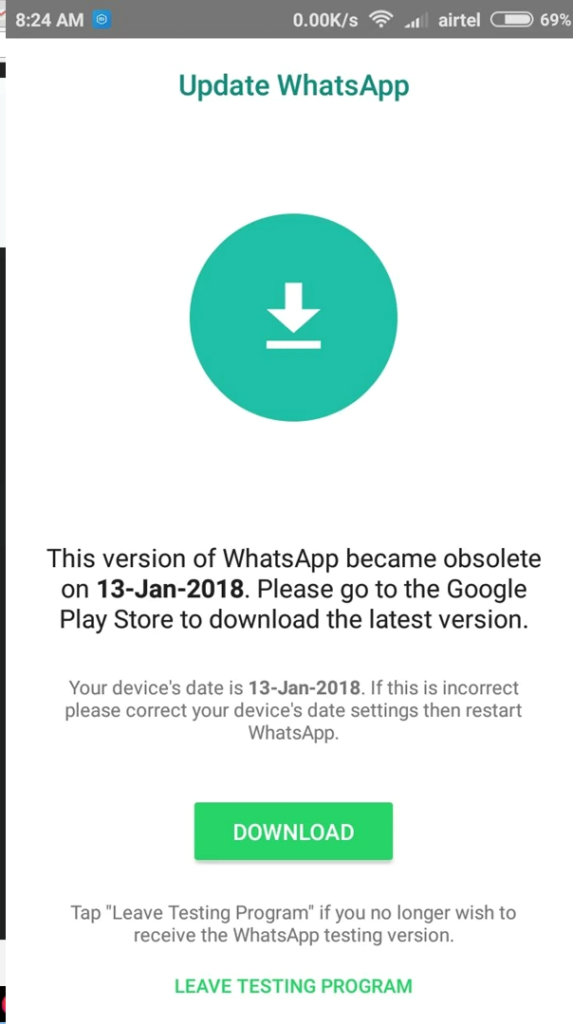 It was going just fine up until today when several users, mostly MiUI users started facing some problems with it. The app showed a message stating – "This version of WhatsApp became obsolete on 13-Jan-2018. Please go to the Google Play Store to download the latest version." Users either get a blank screen or are greeted with a pop up stating-"To view this content, install and set up a web browsing app". Users are not able to get rid of this problem even when they update or re-install the app from Google Play Store.
Solution- WhatsApp Not Working On Xiaomi MiUi Phones
Follow the steps mentioned below to eradicate this issue-
Uninstall WhatsApp from your device.
Download Now the latest version of WhatsApp in apk format.
Check the unknown sources from privacy settings.
Install this apk and run the new WhatsApp.
Enter your phone number and recover your Google drive backup (if any).
Enjoy your WhatsApp services.
We hope that the article was helpful and solved your WhatsApp issue. For more geeky and helpful articles bookmark our website. Share this page with your friends if it helped you.
More related stories below: