The Airtel Digital TV – Pocket TV app offers you free videos, Anytime TV, trending, movie preview and top videos. To watch live TV on this app you need to enter your registered mobile number or your customer ID of your Airtel Digital TV. Pocket TV app offers more than 150 TV channels right on your smartphone. It is also loaded with 10,000 hours of video. And more than 13 channels are available to watch anytime. For this app Airtel is charging 60 rupees per month.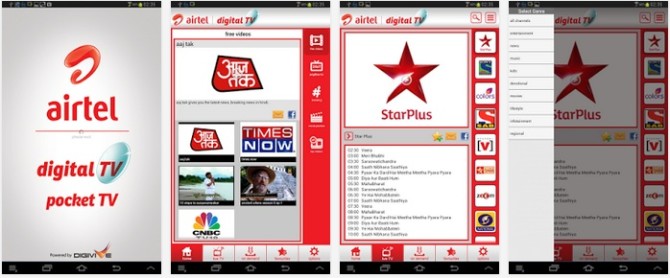 Last year Tata sky also launched its Everwhere TV app for its TATA SKY customers. Same trend Airtel is also following with Pocket app.
To use this service on a smartphone a customer have to activate the service by sending an SMS <ADD TV> to 54325 from their registered mobile number.
The Airtel said that it will also bring the same app on iOS too and followed by other platforms.
There are other apps too in Google Play store named Airtel Live Mobile TV. So don't get confused with official app and fake. As am sharing the link of app, download it from here.
Live TV: 150+ channels across popular genres
Anytime TV: Watch past episodes on 13+ channels
Video Library: 10,000+ videos
All networks supported: Supports all operator networks
Program Guide: Electronic program guide for one week in advance
Recommendation Zone: Get top viewed, newly added and top rated content on the home screen
Favorites: Set favorite channels for easy access
Social Media Integration: Share the channel you are watching on Facebook
Set Alarms: Set program reminders
For More Stay tuned with   Intellect Digest India   and like us on   Facebook   or follow us on   Twitter  .
More related stories below: