WhatsApp has become one of the essential communication tools nowadays. However, the constant barrage of messages and social media notifications can be pretty annoying. This is further enhanced by WhatsApp groups. Now you can prevent such group invites. Read more to find How To Stop Spam Group Invites On WhatsApp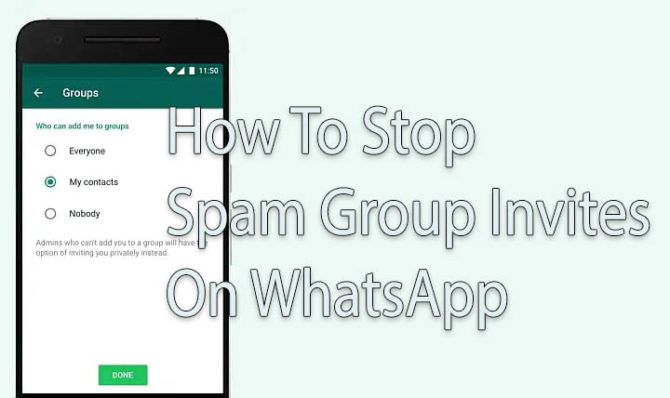 WhatsApp has added a new privacy setting to prevent spam group invites. Now, users will be able to decide who can add you to groups. The messaging app is adding an invite system that offers you the choice of joining the group.
The new changes will start rolling out in the coming weeks. You will need to have the latest WhatsApp version on your smartphone. Here's how to restrict joining of new groups on WhatsApp:
Also read: How To Mute WhatsApp Notifications Without Opening The App
How To Stop Prevent Spam Group Invites On WhatsApp
Go to WhatsApp Settings.
Navigate to Account > Privacy > Groups
Now, you will see three options – Nobody, My Contacts, and Everyone.
As the name suggests, if you select the 'Nobody' option, you'll have to approve every WhatsApp invite. The person adding you to a group will have to send you a private invite through an individual chat. This invite will expire three days after its receipt.
The 'My Contacts' option will enable users in your address book to add you to groups. Unknown contacts will have to send you a private invite through an individual chat (expires in three days).
On the other hand, the 'Everyone' option won't add any restriction. The messaging app will run as it is currently functioning.
Also read: How To Use Group Video Calling Feature On WhatsApp
Conclusion
In India, the new features will prevent the misuse of the instant messaging app in the forthcoming elections. WhatsApp and Facebook are infamous as a source of influencing the public by political parties/ groups. Several cases of fake news circulation via WhatsApp groups emerged in the past. WhatsApp also made it harder for users to be re-added to groups they've left.
Previously, the company rolled out 'Forward Message Limit' for Indian users to limit fake news and misuse of its platform. WhatsApp allowed users to forward messages for up to 20 chats. Now, message forwarding will be limited to five chats in India.
Recently, the messaging app added a 'Checkpoint Tipline' feature in India. It allows users to check the authenticity of the information on the Facebook-owned app. You can also submit misinformation or rumors you receive to the Checkpoint Tipline on WhatsApp.
Also read: How To Use Fingerprint Sensor To Lock WhatsApp Chats On iPhone
The messaging platform has over 200 million monthly active users in India and 1.2 billion users worldwide. The Facebook-owned app has been constantly adding new features throughout this year. A new Mute button that allows users to mute chat directly from the notifications panel.
The messaging platform also announced the addition of 'Picture-in-Picture' Mode to Android app. It will allow users to watch YouTube videos while checking the messages. The company also added WhatsApp group video and voice calling features. It allows you to chat with up to four people at the same time.
What do you think of the new WhatsApp feature? Do you think it will curb the spread of fake new through WhatsApp? Share your views with us in the comments section below.
More related stories below: