The new Apple MacBook Pro 13 (along with the MacBook Air and Mac Mini) comes with an Apple M1 processor (said to be quicker than Intel hardware). Read more to find about Apple M1 MacBook Pro Vs Intel MacBook Pro – Which Is Better?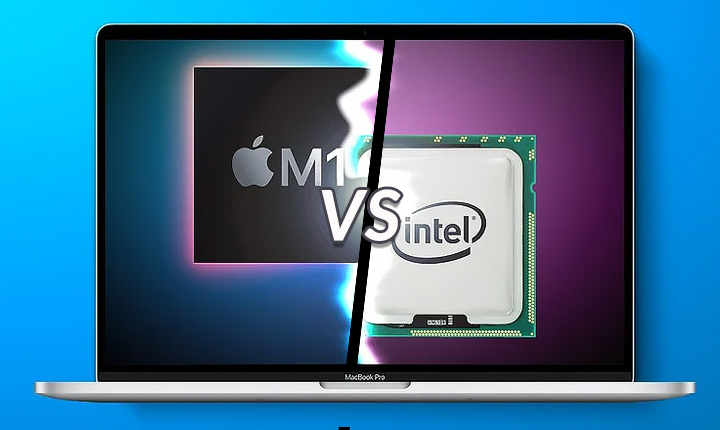 The new Apple MacBook Pro 13 (along with the MacBook Air and Mac Mini) are powered by the company's M1 processor.
Apple claims that the M1 processor is quicker than previously-used Intel hardware. It is said to be specifically better in integrated graphics (compared to Intel's Iris Plus).
The Apple M1 processor, a System-on-a-Chip (SoC) has been designed by Appleto eventually replace Intel hardware across the entire Mac line-up.
While Intel hardware can support all current Mac apps, developers can update their software to fully support Apple's M1 chip through Rosetta 2 translation software. Let's see which processor is a better option:
Performance
The Apple M1 processor is an 8-core CPU with four performance cores and four efficiency cores. It comes with an 8-core GPU and a 16-core "Neural Engine" that enhances certain machine learning algorithms.
On the other hand, the Intel models are quad-core processors that comes with Iris Plus integrated graphics.
The base model of ‌M1‌ MacBook Pro earned a single-core Geekbench score of 1722 and a multi-core score of 7535. It received OpenCL score of 19305.
On the other hand, the Intel MacBook Pro earned a single-core score of 871 and a multi-core score of 3786. It received OpenCL score of 6962.
The ‌M1‌ Mac can easily play videos in multiple tabs without any issue or fans kicked on. The Intel Mac however, struggles (with the fans on max speed). It also takes longer to open multiple apps.
Also read: Infinix Zero 8i With Four Rear Cameras, Two Front Cameras Launched in India
Storage
The MacBook Pro 13 with Apple M1 can only be configured with up to 16GB RAM and up to 2TB storage. Whereas the Intel models can be upgraded to 32GB RAM and up to 4TB storage.
The SSD on ‌M1‌ MacBook Pro offers faster read speeds of 2800MB/s and write speeds of 2300MB/s. The SSD in the Intel MacBook Pro offers read speeds of 1600MB/s and write speeds of 1100MB/s.
When transferring a 40GB+ file, the ‌M1‌ can complete the task in about 30 seconds. Whereas the Intel Mac takes almost 90 seconds. Even while exporting a 4K video the ‌M1‌ MacBook Pro is faster and quite (with fans never coming on).
Booting
Thanks to the new Instant Wake feature, the ‌M1‌ MacBook Pro starts up noticeably faster than the Intel model. Shutting down is also faster.
Battery life
While the Apple M1 model offers up to 20 hours of battery life, the Intel model promises up to 10 hours of usage time on a single charge.
Also read: Nokia 2.4 Announced With 20:9 Display, 4500mAh Battery Launched in India
Additional Features
Both the Apple M1 and Intel versions of the MacBook Pro 13 have the same size and thickness. However, the Apple M1 model is technically a tenth of a pound lighter.
The entry-level Apple M1 version comes with a 500 nit Retina display, the Touch Bar, and TouchID fingerprint-based login security.
While the Apple M1 version offers only two USB-C / Thunderbolt 3 ports, the Intel model provides four Thunderbolt 3 ports.
Additionally, the Apple M1 supports 802.11ax, or Wi-Fi 6. The Intel-powered models only support 802.11ac, or Wi-Fi 5.
Also read: Lenovo Legion 5 Gaming Laptop Launched in India
Conclusion
The new Apple M1 hardware is fundamentally different from the Intel chips. Third-party developers will need to update their Mac software for Apple M1.
While Apple is promising that software that isn't updated should still run (thanks to Rosetta 2 "translation environment" found in macOS Big Sur), some programs you like to use might not work for a while.
The bottom line is that the MacBook Pro 13 with Apple M1 offers far more battery life and superior graphics performance. However, Intel models are the only option if you want 32GB RAM or more than 2TB storage.
Also read: How To Share Screen On Facebook Messenger Video Calls
We hope the above-mentioned information was helpful. Please share your views with us in the comments section below.
More related stories below: