Motorola launched MotoX in India with Flipkart. It is the first smartphone launched by Motorola since it has been acquired by Google. Taking a rather different approach this time, Motorola has not focused on pushing the hardware specifications. Having some new hardware and loads of Moto X exclusive software and features on its line-up, the ergonomically optimised Moto X is truly of a kind. Available in a wide variety of colours and wooden back options the device certainly is a looker. Following is the detailed review of the device.
Buy now at best price from Flipkart.
Key features & Specifications :
Android 4.4.2 KitKat
4.7" 720p AMOLED Screen with 316 ppi and Gorilla Glass Protection
Dual Core 1.7 GHz Krait CPU on  Snapdragon Pro Chipset
2 GB RAM
Natural Language Processor – For touch-less control
Contextual Processor – For reading the state of the device
Adreno 320 GPU
10 MP ClearPixel Camera with Flash, 1080p Video recording, HDR, Continuous AF
2 MP Front facing camera with 1080p video recording
Wi-Fi b/g/n/ac, GPS – GLONASS , Bluetooth 4.0
16 GB Internal Storage – Non Expandable
Dual Microphone
Touchless Control, Active Notifications
Light and Proximity Sensor
Optimised Ergonomics
2200 mAh Battery
Retail Packaging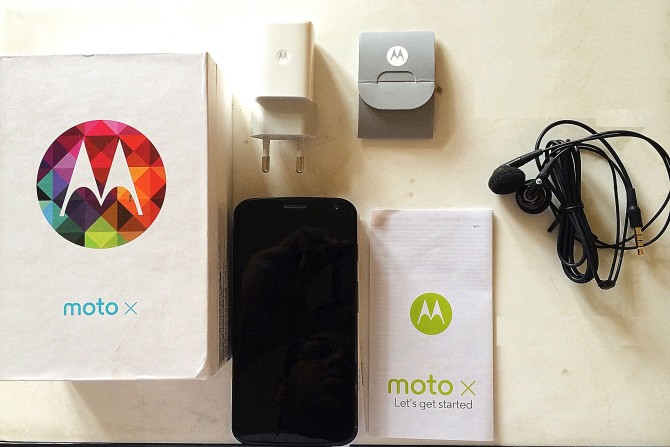 Moto X Retail Package – ( USB Cable in Box )
Moto X retail pack includes the Phone, Instruction Manual, Earphones, USB Cable, SIM ejection tool, Wall Socket USB Charger – with Dual USB Slots. Nice!
Hardware
The device certainly looks like its younger sibling the Moto G. The curvature of the device makes it really comfortable to hold in the hand and single handed operation is facilitated. Textured soft touch back gives a premium feel to the device. The 4.7" AMOLED display is very pleasing to look at and everything is seamlessly integrated. On the right side of the device, volume rocker keys and lock button are present. The left side is devoid of any buttons, a nano-SIM card slot is present. 3.5mm Audio jack is present on the top.
The screen sports a microphone near the lower left corner for touchless control function (which always keeps checking for the phrase – "OK, Google Now" with the help of its Natural Language Processor without taking a toll on the battery life). Overall, the device speaks quality and scores full points for ergonomics and build quality.
User Interface
The Moto X runs on the latest iteration of Android i.e. 4.4.2 KitKat. The UI is very fast, responsive and lag free. Most of the user interface is stock android without any modification on the looks and overall aesthetics. The customisations done by Mototola include the Touchless control options in Settings and Training the phone for the owner's voice commands. This is one of the very few examples of an android phone that comes with no bloatware whatsoever (Hello Samsung). A couple of useful home brewed applications come preinstalled on the device, Moto Assist – for hands free operation of the device while driving, auto silencing during meetings and quite mode at night. Moto Migrate, as the name suggests helps you transfer your contacts, photos and pretty much everything else from your old smartphone to your Moto X.
Touchless Control
An exclusive feature of Moto X is the touchless control option. It's just a fancy way of launching Google Now but adds other dimension to the possibility of interacting with your device. You can say "OK, Google Now" to the phone and it swings into action. The waking up of the phone by listening to this phrase works in both locked and unlocked state making it truly touchless. This is made possible by the help of Natural Language Processor, Contextual processor and Dual noise cancellation microphones. It works great even in noisy environments.
You can do any search query, ask about weather, place reminders, set alarms, call somebody up or Google up any calculations (Yes It Works!). The voice recognition works in offline mode also (Just download the language pack) without sacrificing any accuracy. The Touchless control is a very impressive of the Moto X and certainly is very useful and highly functional.
Active Notification take advantage of selective active display area of AMOLED panels and helps to get a glance of time and any notifications without pressing any button. You can also ask "OK, Google Now. What's Up?" and it tells you about the time and notifications you have. Pretty neat and useful while driving.
A flick to launch camera feature is also present, which involves twisting the device while in landscape orientation. The gesture seems quirky at once but it works great as it doesn't involve any button press.
Performance
The Moto X calls the chipset as X8 Computing system, a custom developed 8 core unit consisting of a quad core Adreno 320 GPU, Dual core Krait processor clocked at 1.7 GHz, a Natural language processor and a contextual processor. The CPU performance is devoid of any lag but it falls short when we compare it to the handsets in the similar price category.
The graphics processor is the strongest suite for the Moto X. Adreno 320 GPU is used by the likes of Galaxy S4 and HTC One but the Moto X has a 720p display as opposed to 1080p panels and this makes it one of the strongest graphics performers in the Android smartphones. It will handle every game with flying frame rates with lag or stuttering whatsoever.
Camera
The camera on Moto X is a 10 MP ClearPixel Camera at rear and 2MP camera at front. The pictures we clicked with it comes out decent but not exceptional in any way. The sharpness and details in the pictures are missing. The clarity is fine though, the images were kind of soft and not as sharp as you would expect. If a high quality camera on phone if your top priority, Moto X may not please you.
Battery Life
The 2200 mAh unit performs good for a whole day. Starting with a 100% charge in the morning on 3G network and Wi-Fi for half day, three email accounts on push, casual gaming, an hour of music playback, a couple of camera shots and an hour of instant messaging brought down the battery to 10% at 10 PM in the night. So yeah it'll last a day under medium to heavy usage.
Video Review- Reasons To Buy Moto X
Video Review- Reasons To Not Buy Moto X
Conclusion
Making its own path, steering away from market traditions and stepping aside from specifications war, the Motorola MotoX is certainly an innovative device. The device scores top points In graphics performance and is one of the most comfortable to use android smartphones. The touchless control and active notification feature are an added value to the device and helps to interact in different ways with the smartphone. However, the CPU performance is somewhat a weak point if we compare it to similarly priced handset android smartphones. It is by no means a slouch performer. However, it'll show its bottlenecks if any CPU intensive tasks are thrown at it. The Moto X is an excellent choice for anyone who wants a lag free, beautiful and intelligent smartphone in a compact package.
It is available on Flipkart for INR 23,999 and INR 25,999 (Wooden Texture Back).
PROS :
Excellent Touchless Control
Superb Ergonomics
Graphics Performance
Available in wide variety of colors
CONS :
Slightly weak CPU Performance
Pricing could have been a little better
Camera could have been better
Do let us know your thoughts in the comment section below. Buy now at best price from Flipkart.
More related stories below: