The famous universal IM client for mobiles, Nimbuzz launched its Windows Phone 8 Mobile app in the Windows Pone Marketplace globally. Nimbuzz is a cross-platform mobile messaging and entertainment app which allows users to message, video, call, meet, and share data with family and friends on any mobile device. With more than 150 million users in more than 200 countries, and more than 210,000 new registrations daily, Nimbuzz has now become the ultimate mobile communications tool.
Nimbuzz on Windows Phone 8 now supports resizable Live Tiles which users can choose as per their display on the device's home screen. A larger Live Tile can also visually alert the user to the number of unread messages. Additionally, The Live Tile, regardless of size, will periodically flip over to show a segment of the content so a user can decide to immediately to respond, to join a chat group or to view later. The new Windows Phone 8 release of the Nimbuzz app also supports locked screen notifications. New communication alerts, whether they are chats, group chats, file shares or other notifications, can be viewed directly when the screen is locked, alerting the user of pending activity within the Nimbuzz app. The new version also delivers increased app performance and responsiveness. Nimbuzz was and is available for the Windows Phone 7.5 but it lacks the enhancements of WP8.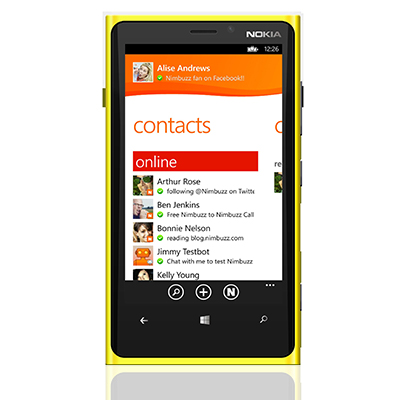 "Nokia's long history with Nimbuzz across our device portfolio continues to provide our customers with great mobile experiences. As Nokia expands the reach of the Nokia Lumia portfolio, the reach of Nimbuzz also increases", said Richard Kerris, VP of Global Developer Relations, Nokia.
"As the early pioneer in mobile messaging, Nimbuzz has witnessed an increasing choice by consumers to use messaging apps for communicating on their mobiles," said Vikas Saxena, Nimbuzz CEO. "Windows Phone as a mobile platform continues to gain traction around the world and our 150 million and counting customers can upgrade to a Windows Phone device knowing their favorite messaging app is available."
The Nimbuzz app can be downloaded from the Windows Phone Marketplace from any Windows Phone 8 device. Along with the increased native language support of the Windows Phone OS, the WP 8 version of Nimbuzz is available in English, Spanish, French, German, Italian, Dutch, Portuguese, Russian, Hindi and Arabic.
More related stories below: