This year's IFA event kicked off in Berlin this week and witnessed a plethora of notable launches from various smartphone manufacturers. One of the most anticipated event was Samsung's UNPACKED event and rightfully so. Samsung pleased the tech enthusiasts with a variety of new launches including the Galaxy Note 4, the Galaxy Note Edge, Gear VR and Gear S. Read on to find out the detailed specifications and what new features does the latest iterations of all these gadgets bring to the table.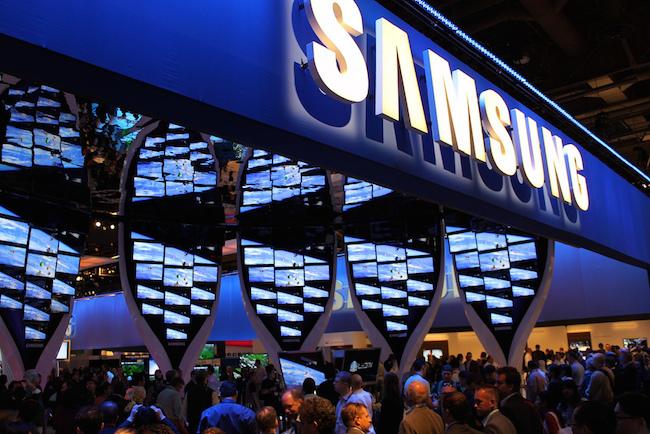 Samsung Galaxy Note 4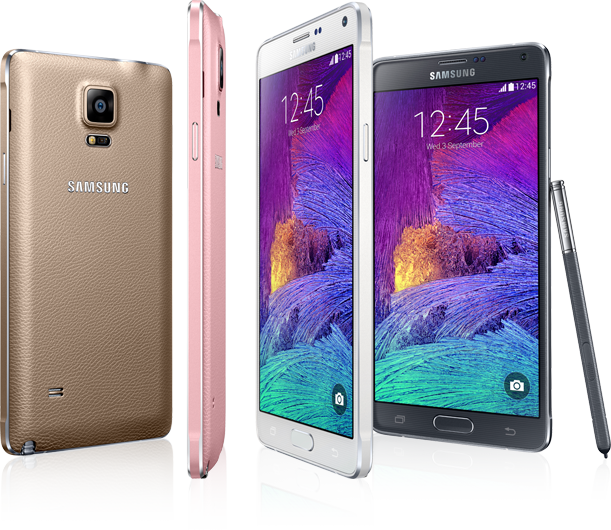 The fourth iteration of the phablet device from Samsung was one of the most anticipated piece of tech this year at IFA. The new Galaxy Note 4 comes with a lot of hardware and software improvements which make the already spectacular Galaxy Note 3 even better. Let us take a look at the detailed specifications
5.7" Quad HD Super AMOLED (2560 x1440) display with Gorilla Glass protection

2.7 GHz Quad Core Snapdragon/ 1.9 GHz+1.3GHz Quad Core Exynos processor
3 GB RAM
32 GB Internal Memory expandable to 64 GB
4G LTE Support
16 MP Primary camera with OIS
3.7 MP Front camera with wide selfie mode
Android 4.4 KitKat
Wi-Fi a/b/g/n/ac 2×2 MIMO
NFC, Bluetooth 4.1, USB 2.0, IR Remote Control
3220 mAh Battery with fast charging
Revised S-Pen with more pressure sensitivity
Gesture, Accelerometer, Geo-magnetic, Gyroscope, RGB ambient light, Proximity, Barometer, Hall Sensor, Finger Scanner, UV, HRM Sensors
The Galaxy Note 4 looks identical to the Note 3 but there are a few changes: Gone is the fake leather stitching at the removable back cover. Also, the device now comes with a metal build much like Galaxy Alpha which gives it a really premium feel in hand. The display glass now blends in with the phone much like Lumia 800. Also, the new S Pen comes with even more pressure sensitivity so that your handwriting looks even more natural while jotting down notes and other to-do(s). Other new additions include revised multitasking, new app switching interface and Optical Image Stabilization in the camera which is now bumped to 16 Megapixel resolution.
Samsung Galaxy Note Edge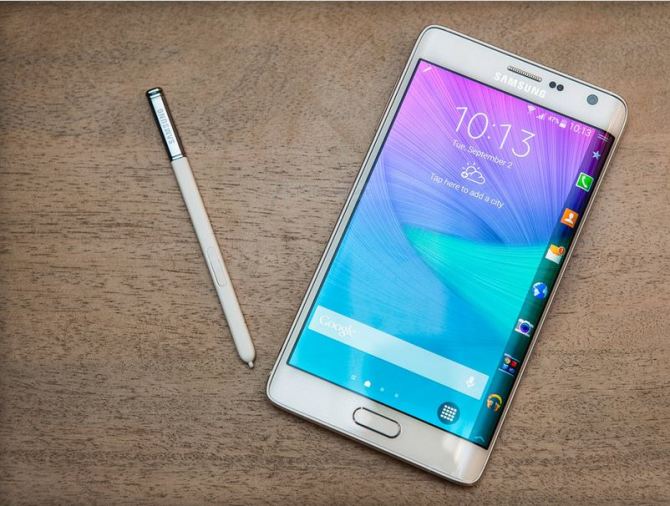 The Galaxy Note Edge comes with an arched display which extends on the right side by 160 pixels. Specifications wise, the Galaxy Note Edge is identical to Galaxy Note 4 but with a screen size of 5.6 inches and a slightly smaller battery unit due to bigger screen. The curved part of the display has got numerous features like time/date view, notifications view and stock/weather view. When the smartphone is unlocked the side screen shows twitter feed and various app shortcuts.
Samsung Gear VR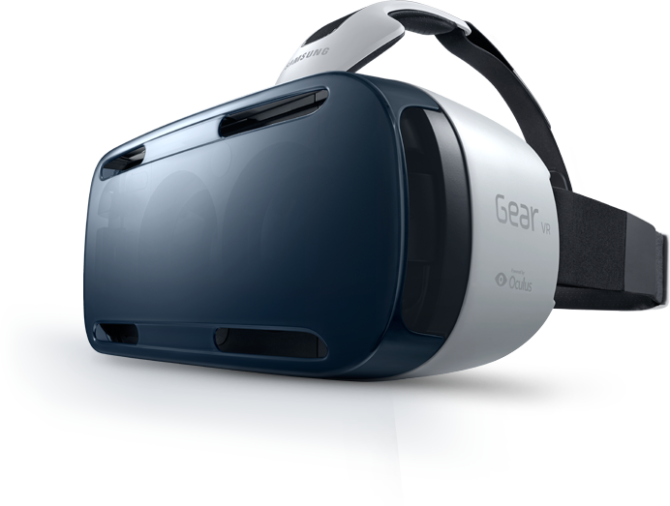 Samsung Gear VR (Virtual Reality) is an accessory specifically designed for Galaxy Note 4 based on Oculus Rift's VR hardware. The Galaxy Note 4 serves as a display for the Gear VR, so it can't be used without the Note 4. It comes with various controls like Forward and Backward key, Back key and a host of sensors. The Gear VR works with the dedicated VR player application on the Galaxy Note 4, so the content that you can enjoy on this one of a kind accessory is pretty much limited at the moment. The camera module of the Galaxy Note 4 can also help to see the users outside. For now the concept of a Virtual Reality headset sounds great but we certainly need some promising content hubs for the device.
The Samsung Gear VR will launch alongside the Galaxy Note 4.
Samsung Galaxy Gear S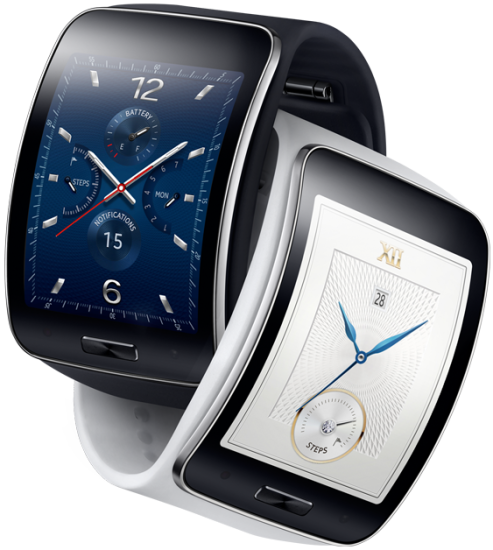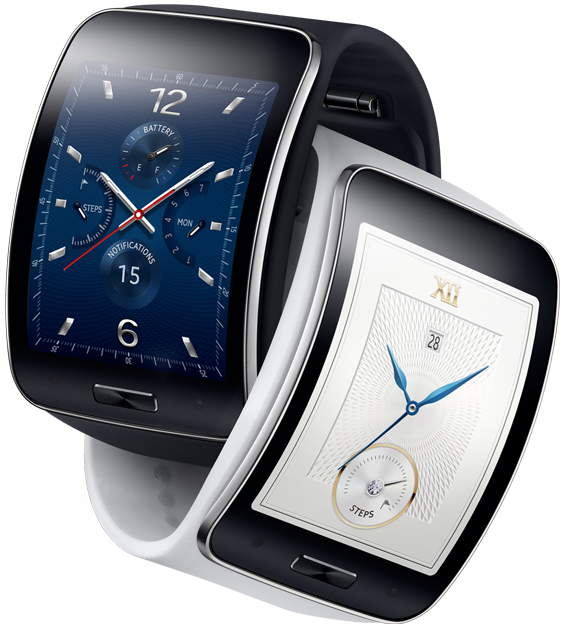 Samsung announced the Galaxy Gear S smart watch with 3G connectivity & based on Tizen OS.
The Samsung Gear S features a 2″ curved Super AMOLED display with a resolution of 480 x 360. The device is powered by a 1GHz dual-core CPU & 512MB of RAM. It also comes with a heart-rate monitor and IP67 certification for water and dust resistance alongside 4 GB Internal Memory and GPS with GLONASS support. Other features include 3G connectivity, Bluetooth 4.1, Wi-Fi and full calling capabilities through a Bluetooth headset accessory. It will interesting to see what Samsung offers in terms of functionality to consumers and if Tizen OS proves to be a better OS for smartwatches than Android Wear.
Expert Analysis
Samsung has really managed to impress the tech enthusiasts this year at IFA. The Galaxy Note 4 improves upon the already great Galaxy Note 3 and provides much needed hardware updates to bring it head to head with the current flagships like LG G3. The Galaxy Note Edge comes with a first in class display concept and solid specification sheet. Samsung needs to price their products right in the market when they launch in India next month in October.
Summary
Event
Location
Starting on
Ending on
More related stories below: