Updated on 28th March 2016
Samsung has expanded its wearables portfolio with the launch of three new Gear S2 variants in India along with a whole new set of applications & dial faces.
The company has introduced two new editions of the Gear S2 Classic- one encased in 18K Rose Gold and another in Platinum as well as a sporty edition- Gear S2 White. With the addition of three new variants, the Samsung Gear S2 will now be available in 5 variants in India namely, Gear S2 Classic Black, Gear S2 Classic Rose Gold, Gear S2 Classic Platinum, Gear S2 Black and Gear S2 White.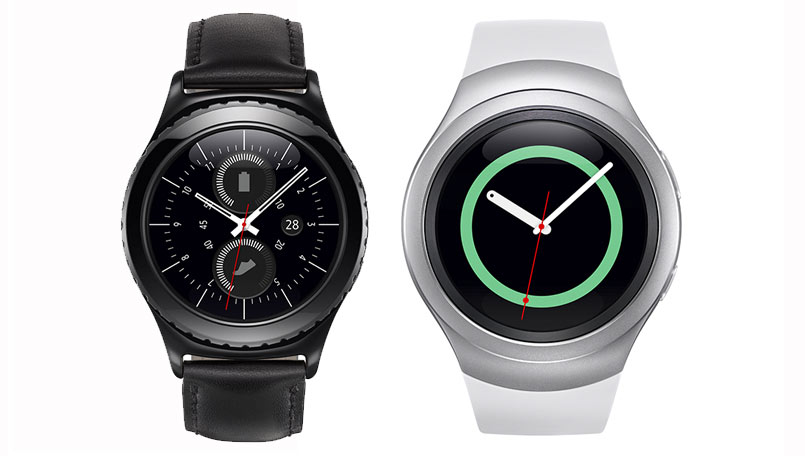 Samsung has also announced a new set of applications for the smartwatch. The Uber for Gear app, for instance, enables users to locate, request and confirm cabs conveniently using the smartwatch. The G'Night sleep tracking app analyses user's sleep cycles and ensures that they wake up in the most active and fresh state. The reminder specialist My Notes in Gear and YouTube browsing app Xenozu along with a host of new games such as Hextris, classic car racing Vroom Rider and hangman have also been added.
Key Features Of Samsung Gear S2 / Gear S2 Classic
Processor: 1GHz dual-core
Operating System: Tizen based wearable platform
Display: 1.2-inch Super AMOLED circular (360×360 pixels resolution and 302ppi pixel density)
RAM: 512MB
ROM: 4GB
Battery: 250mAh (Gear S2 and S2 classic)
Connectivity: Wi-Fi, Bluetooth and NFC
Dimensions: Gear S2: 42.3×49.8×11.4mm (47 grams), Gear S2 Classic: 39.9×43.6×11.4mm (43 grams)
IP68 cerification
Price & Availability
The Samsung Gear S2 is priced at Rs. 24,300 while Gear S2 Classic is priced at Rs. 25, 800. The Gear S2 Classic Gold and Platinum variants are priced at Rs. 34,900 and the Gear S2 White carries a price tag of Rs. 24,300. All the variants will be available to buy across all Samsung retail channels.
Updated on 21st January 2016
Samsung has finally launched its Tizen based Samsung Gear S2 smartwatch in India. The smartwatch comes in two variants- Gear S2 and Gear S2 classic.
The Gear S2 smartwatch is powered by a 1GHz dual-core processor coupled with 512MB of RAM and runs Tizen based wearable platform. It features a 1.2-inch Super AMOLED circular display with 360×360 pixels resolution and a rotating bezel. There is 4GB of inbuilt memory onboard. Backed up by a 250mAh battery, it is claimed to survive for up to 2-3 days on single charge.
Connectivity options include  Wi-Fi, Bluetooth and NFC. The smartwatch also flaunts its IP68 certification for resistance against water and dust. It comes preloaded with accelerometer, gyroscope, barometer, ambient light sensor and heart rate sensor. The Gear S2 measures 42.3×49.8×11.4mm and weighs 47 grams while the Gear S2 Classic measures 39.9×43.6×11.4mm and weighs 42 grams. The Samsung Gear S2 will be available in dark gray case with a dark grey band and silver case with sporty band while the Samsung Gear S2 classic will be available in black case with leather band.
Samsung Gear S2 Classic Hands On Review Video
Also Read: LG Watch Urbane Luxe 23-Karat Gold Limited Edition Smartwatch Launched
More related stories below: