Sony has introduced a new IMX586 smartphone camera which comes with a 48 MP Quad Bayer sensor. It uses a stacked CMOS image sensor for an effective 48 effective megapixels (8000 x 6000). Read more to find about Sony IMX586 48MP Sensor For Smartphone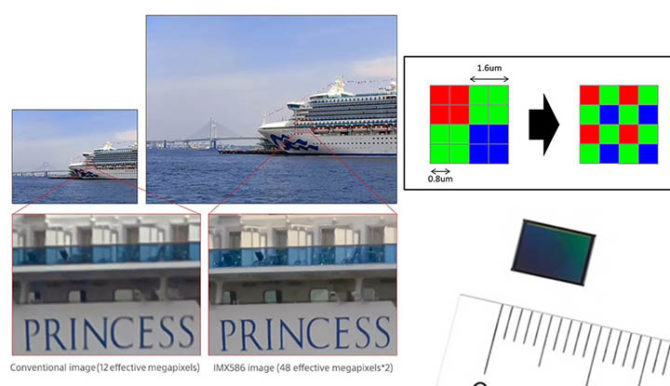 Overview
The new Sony IMX586 sensor brings 48MP to future smartphones. Sony claims that the increased pixel count allows you to capture high-quality photos even when the devices are using digital zoom. It follows the 40MP sensor of Huawei P20 Pro, which also uses a Quad Bayer arrangement.
The greater photo resolution also brings better photo clarity. Users will be able to zoom in on photos with less of a quality drop. This, in turn, makes the digital zoom a more viable option. Other features include 4K video recording capability at 90fps and support for full frame recording at 30fps.
Also read: Honor Note 10 Details Leaked – All We Know So Far
How Does Sony IMX586 Sensor Bring 48MP To Smartphones
The new sensor uses the Quad Bayer 2×2 pixel array. The 48 megapixels on the latest CMOS image sensor are only 0.8 μm in size, stacked onto a 1/2-type unit. It is primarily made for low-light photography.
For low-light situations or shooting at night, it can bin four pixels together to produce the equivalent of a 12MP sensor with large 1.6 μm pixels. This produces bright low-noise photos and videos. During the day or in well-lit situations, the grid returns to its usual signal processing. You will get 48MP photos in real time.
Also read: BlackBerry KEY2 Launched With Snapdragon 660 SoC, QWERTY Keypad
Availability
The new Sony IMX586 48MP sensor will start accompanying smartphones by September this year. It is priced at a unit price of 3,000 yen ($27) each. The Sony Xperia XZ3 (expected at IFA 2018) might be the first device to sport the new sensor.
Also read: Honor 9N Launched In India – All You Need To Know
Conclusion
Sony is the largest producer of the camera lens for Android smartphones. Almost every flagship device in the market uses a Sony camera sensor. The new sensor will improve the smartphone devices across the board. We might see multiple flagships with Sony IMX586 in 2019.
Unlike the 40MP sensor of Huawei P20 Pro, the Sony IMX586 sensor seems like a better solution. Since the size is mm diagonal the smartphone's design will not need a huge camera bump.
We will have to wait and see how the new sensor changes the future smartphone. What do you think of the new sensor? Let us know in the comments section below.
Also read: Xiaomi Mi Max 3 Pro Spotted Online – Here's All We Know
More related stories below: