In an attempt to help its customers make the most of this festive season, Videocon Mobile Phones has announced exciting festive offer for its smartphones. This offer is available in several regions- UP, Rajasthan, Punjab, AP, Telangana and Delhi-NCR. Under this offer, on the purchase of any of the smartphone from Videocon Z55 Dash, Z51 Punch, Z51 Q Star, Z51 Blaze, Z51 Nova+, Z45 Q Star, customers will get exciting gifts like gold coins, power banks, selfie sticks and LED TV's.
Under the 'Scratch and Win Assured Gift' offer, customer will get Videocon's cutting-edge smartphones at a special price. The offer is now available in more than 2000 retail outlets in respective regions and is valid till November 15, 2015.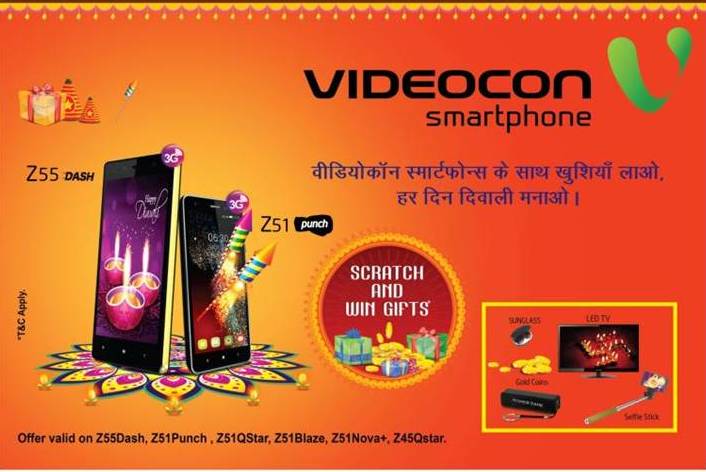 Smartphones on which the offer is available include Videocon Z55 Dash, Z51 Punch, Z51 Q Star, Z51 Blaze, Z51 Nova+ and Z45 Q Star. Assured gift items that customers will get for free include 5gm gold coin, power bank (2500 – 10000 mAh capacity), selfie stick, sunglasses and 32-inch LED TV.
"Videocon is a brand that shares a great value amongst the Indian consumers. Videocon Mobile Phones follows a customer-centric approach and makes sure that we keep delighting our customer with innovative products and exciting offers & schemes. This festive season, we have come up with the special offer wherein the customers can enjoy most amazing smartphone experience along with various exciting assured gifts.  We are offering our finest smartphones at a special festive price to delight our customers and add to the spirit of festivity across the states," said Mr. Jerold Pereira, CEO, Videocon Mobile Phones. 
With festive season around the corner, every handset manufacturer is trying to entice more and more customers with discount coupons, gift assurance and much more. Do you think Videocon will be able to lure customers with its exciting festive offer? Would you buy a Videocon smartphone this festive season? Or is there some other smartphone from different manufacturer with better offers that you are willing to buy? Share your views with us in the comments section below!
Don't forget that the offer is valid till November 15, 2015. So, hurry up and don't miss the chance to avail this exciting festive offer from Videocon! Happy Shopping!
Also Read: Videocon Infinium Z51 Nova Launched At Rs. 5,400
More related stories below: