Amazon is running Amazon App Sweepstakes contest every week on its website and giving away a smartphone or iPod every week to winners. Last week the prize was Google Nexus 5 for single winner. And form other last two weeks it has given away 10 brand new Apple iPod Shuffle (2GB) to participant. The contest was started on February and until now it has given away 3 Samsung Galaxy Grand 2 along with 3 Sony Xperia M smartphones.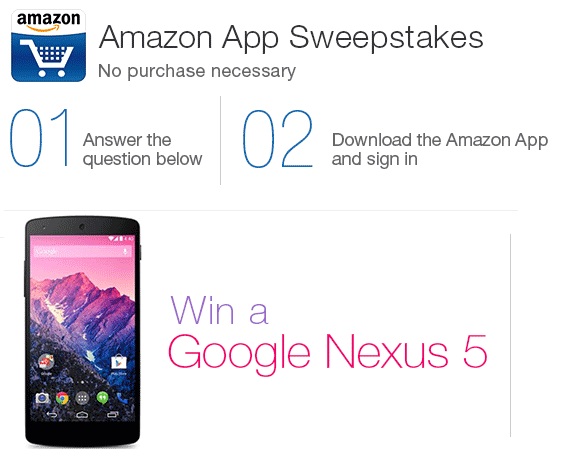 To enter in this contest, the rules are simple, you just need to go to the link mentioned below and have to sign in with your Amazon ID. And then you need to answer a simple question followed by downloading the official Amazon app on your smartphone or tablet. The offer is not available for Windows devices, only for Android or iOS devices. When you finish installing the app on your device, just sign in again on app with you same Amazon ID and all done, you are a participant of this contest now.
The best thing with this contest is you do not need to buy anything from Amazon website.
You can find the contest and participate in it by following the link
http://www.amazon.in/gp/feature.html?docId=1000792653
For More Stay tuned with   Intellect Digest India   and like us on   Facebook   or follow us on   Twitter  .
More related stories below: