Xiaomi, a Chinese handset manufacture who launched its flagship device this month in India, has been sold off within half an hour of opening up of sale over an ecommerce website Flipkart.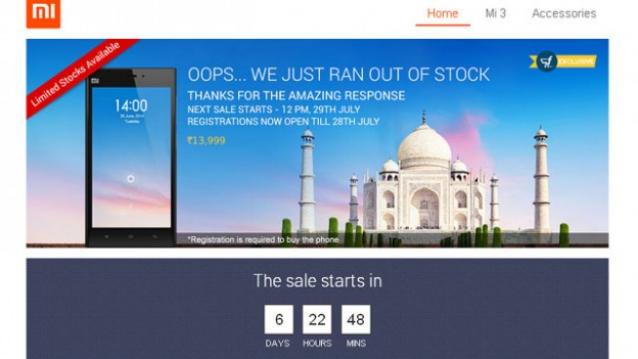 This further led the Flipkart website to crash off because of the traffic it gather. Moreover, the company didn't disclose how much unit of device they sold off. The officials did mention, they had received about one lakh registration for the Mi3 between July 15 and July 21.
The next sale of the Mi 3 on Flipkart will begin on July 29 at 12pm, and registrations for the same will begin a day in advance.
"We sold out within the first 30 minutes. However, we cannot comment on the number of units sold. We will be getting the phone back in stock next week," a Flipkart spokesperson told The Hindu.
On the site crash, the spokesperson said, "Based on the phenomenal response we saw during the registration phase, we had anticipated a traffic spike and had scaled up our web services accordingly. But the number of customers who logged in immediately after the phone went live on our site caused the process to slow down for a while. We are expanding our capacity to provide a smoother shopping experience the next time."
This is not the first time where the Flipkart website has been crashed, the company has faced similar situation in the past when Motorola was launched few months ago.
More related stories below: