Google has finally launched the YouTube Music streaming service in India. It allows you to play official songs, albums, playlists and artist radio along with a catalog of remixes, live performances, covers, music videos, etc. Additionally, the YouTube Music Premium plays songs and videos in the background even when the phone is locked. Read more to find How To Get 3 months free YouTube Music Premium Subscription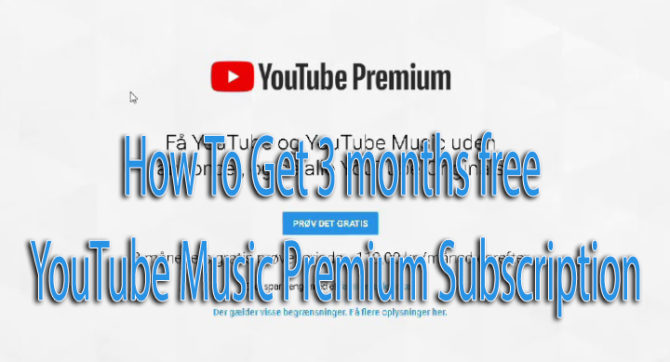 YouTube Music is available for free. However, it comes with ads. On the other hand, YouTube Music Premium offers a completely ad-free experience. You can get a subscription at Rs 99 per month or Rs 149.00/month for a family plan (can be shared with 5 more family members).
The YouTube Music Premium also allows you to play songs/ videos in the background even when the phone is locked. This has been a huge complaint among YouTube mobile app users. Here's how you can try the new service:
Google is offering the YouTube Premium in India at Rs 129 a month. This includes membership to YouTube Music Premium and access to all YouTube Originals (like Cobra Kai, BTS: Burn The Stage, etc).
Also read: How To Turn Off YouTube Video Download Recommendations
How To Get 3 months free YouTube Music Premium Subscription
As a part of an introductory offer, Google is offering 3 months free YouTube Music Premium subscription. Google Play Music users will get YouTube Music Premium membership as part of their subscription each month.
Alternatively, Samsung Galaxy S10 users can get 4 months of free YouTube Premium (includes access to YouTube Music). You can get YouTube Premium family plan at an additional Rs 60 per month
Note: Once the trial period ends, users will be automatically charged the standard subscription price unless you cancel the subscription before the end of the trial.
Also read: How To Control Streaming, Download Quality On YouTube Music
Conclusion
Currently, YouTube has 1.9 billion users monthly active users. Google claims that users watch over 180 million hours worth videos on TV screens every month. The platform is also bringing original programming to several markets including India.
Recently, the video streaming platform has introduced several changes to its app. It now allows creators to add hashtags in video titles and description. You can use the 'dark mode' to reduce stress on your eyes. Additionally, Google is working on a new Explore tab that will replace the Trending section on the platform.
"India is where the multi-lingual music scene thrives. It's interesting to note how Indian artists have consistently claimed top spots over the last few months in the Global YouTube Top Artists chart. With YouTube Music, we are hoping to bring the best in global and Indian music to millions of fans across India, and give them an immersive music experience, with the magic of music on YouTube," said Lyor Cohen, Global Head of Music, YouTube.
"We know that India loves watching music videos on YouTube — be it the vibrancy, choreography, stars and glamour. Music from India has always been so much more than just the audio. Therefore for us, with the launch of YouTube Music, all the emphasis is on the familiar and to make every user experience richer as they start using the service. From recommended music videos, live performances, covers, to new videos — it's all here, and only here," said T.Jay Fowler, Director of Product Management, Music Products, YouTube.
What do you think of the new Youtube feature? Are looking forward to trying it on your Android smartphone? Let us know in the comments section below.
More related stories below: