Online consumer products research platform Zopper has launched a new mobile app designed to help customers in choosing the best product at the right price and from the best place whether online or offline.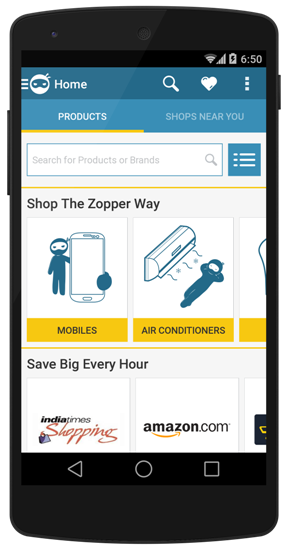 There are close to 10.5 million products to browse from over 400 categories – it's the largest product catalog in India. The app can intelligently guide shoppers to find a product that perfectly suits their needs and customers can find price listings from over 1000 e-commerce portals and over 100,000 offline stores – local stores and retail chains. Not only this but App also helps in tracking online prices of products on an hourly basis.
Explaining the functioning of the application, Mr.SurjenduKuila, Co-Founder, Zopper, said, "The application is very intensive as it has to have tremendous data backup to support customer requirements. The application functions seamlessly by connecting with our back-end servers where all the data about the whole product catalog, pricing information and offline stores listings etc. is available. The servers in-turn are driven by intelligent algorithms that gather this data from thousands of online sources, saves this data and converts it into relevant information for customers. And this goes on 24/7, non-stop. The applicationhas been created in terms of the design and user experience to create a cool, sleek application that's easy and a lot of fun to use!
The focus of the organization is on making the Indian Shopper smarter by equipping him with valuable information so that he or she can take informed decisions. For the time being, anybody with an Android phone can download the application from Google Play Store. Applications on other platforms like Windows Phone and iOS are in the pipeline.
This application is available for download free now onwards on Google Play Store for Android devices; and will be  launched on Windows and iOS soon
More related stories below: