According to Datawind website the third generation of Aakash is expected to launch in mid-2013. Some of the specification is given on the Datawind official website but still its not clear that which operating system it is going to support. The specification is still have to be finalized by the NMEICT (National Mission for Education through Information Communication Technology) before end of March 2013. But it is clear that it going to support SIM card. The IIT Madras is working on this project very hard.
This tablet has Cortex 1 GHz processor with 512 MB RAM. There are 4GB internal memory support. The display is capacitive with multi touch. There is VGA front facing camera for video calling. And a G-sensor too. For connectivity there is Wi-Fi support too. And other features are still is not available. We will soon update you more in the future.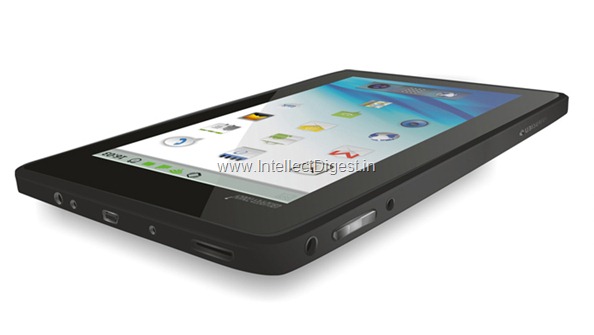 Recently Aakash 2 was developed by IIT-Bombay and was launched by President Pranab Mukherjee in November.About 50 lakh 'Aakash 3' tablets is expected to be rolled out in the next phase, the global tender for which may be floated in February, 2013.
"Our aim is to imbibe the usage of tablets in the education system and create an ecosystem for this. We have distributed Aakash tablets to 250 colleges across the country and asked them to come up with newer ways to use the device," said Deepak B Phatak, committee member and a professor in IIT- Bombay's Department of Computer Science and Engineering.
Aakash 3 will have a faster processor supporting both Linux and Android operating systems and come with advanced memory, he said. "It could also have an SIM card slot so that people can use it as a communication device," Phatak said.
Aakash 3 specification
A8 Cortex 1GHz processor
512 MB RAM
4GB internal memory
Multi touch capacitive display
VGA front facing camera
G-sensor support
Wi-Fi support
More related stories below: