Staying updated has become a necessity. However, it is hard to find a comfortable space to go through your favorite apps. While going through social media during late hours is harmful to your sleep cycle, it also puts a strain on your eyes. Setting your apps to 'Dark Mode' helps to reduce such strain. This can be done quite easily as most apps offer such modes. In fact, you can use these modes around the clock. Want to catch up without straining your eyes? Read more to find How To Use Dark Mode On Your Apps For Late Night Reading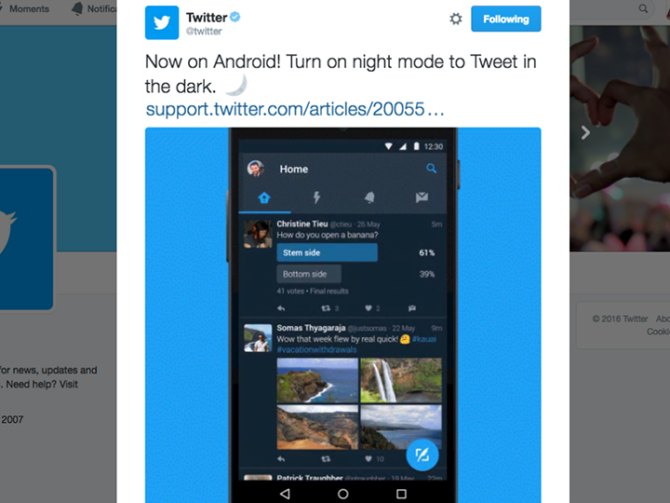 The Dark mode reverses the background and foreground colors. For example, it starts displaying white text on black. On the other hand, the Night mode apps on your smartphone lower brightness and reduces blue light. While few smartphones come with a 'Dark Mode' option, it doesn't work inside most apps. Here's how you can manage some of the frequently used apps in easy steps:
Twitter
Go to your profile.
Open settings.
Select 'Turn on night mode.'
Google Maps
The Navigation mode in Google Maps automatically goes dark at night. However, you can manually force night mode in the Navigation Settings > Color scheme.
WhatsApp
While Whatsapp does not offer a night mode, you can change the chat wallpaper to solid black for a pleasant reading experience during your late night chats.
Go to the Settings menu.
Select Chats.
Now, tap on Chat Wallpaper > Solid Colors.
Select a black background.
Also read: How To Control Smartphone Addiction
Evernote
The useful note-keeping app comes wth a Dark them which can be easily activated within the app or the widget. Just go to setting and select the dark theme.
Instapaper
Instapaper allows you to go through all your saved articles in one place. The extremely useful app also offers a dark mode. It also lowers the brightness of images.
Tap the 'Aa' button from any article.
Select the darkest of the four color options.
Alternatively,
Go to the settings menu.
Turn on 'Automatic Dark Mode'
Also read: How To Play Youtube Videos In Background
Conclusion
Sadly, there's still no dark mode for the mobile versions of Gmail, Facebook, or Instagram yet. Whenever possible, use dark mode to avoid strain or distracting others around you. You can also use third-party apps like CF.lumen, f.lux, or Twilight for an overall pleasant smartphone viewing. Do you know of any other tricks of similar nature? Let us know in the comments section below.
More related stories below: