Acer has been around in India for quite some time but has never really managed to bring a product to the Indian shores which could set the sales charts on fire. But all that is about to change with Acer well on track of launching a new tablet in India with Android Jelly Bean and that too at a price that will give most of the tablets from the Indian manufacturers a run for their money. It will be named as Acer Iconica B instead of the rumored name B1 and will hit the shelves by the 20th of January 2013. This news comes from a reseller of Acer who has shared this information.
This will be the tablet that will be sold all over the world at a price tag of $99 and is expected to be launched at the CES 2013 which kicks off on the 7th of January. The tablet being launched at a price of Rs.7,999 when it will be sold world over at a dollar less than 100, comes as a welcome news for all the people who were disappointed with the steep price of the Nexus, even though it had a lower price tag all over the world. The Acer India website has listed the device with the name of Iconica B l and as per the listing, it shall be powered by a 1.2 GHz processor and will have a 7 inch screen. And the package shall weigh 320 grams.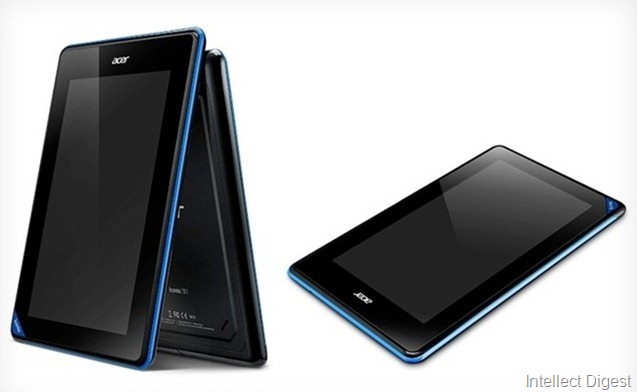 The tablet will have a front facing VGA camera for video-calling and will have a 32 GB expandable memory card slot. The rumored specs include a RAM of 512 MB, 8 GB of internal storage, Bluetooth 4.0 and Wi-Fi but shall not feature a 3G SIM card slot for 3G data connectivity. The spec-sheet is something which is pretty much similar to the one you'll find on a budget tablet from Indian manufacturers. A renowned PC brand bringing a tablet for people on budget shall definitely fit the needs of many who have been apprehensive about the quality of the products on offer from the Indian manufacturers.
It does not come with Nexus 7-like performance figures and is not meant for hardcore gamers. But it shall offer a decent performance for a device at this price point. It will be quite a high-quality product and shall have a better build quality than the other low-cost tablets. Seeing that the tablet will be launched at the upcoming CES and India will get the tablet on the 20th if this month, we pretty much believe that Acer views India as its one of the most important markets. Acer has their tagline as "Acer makes it Easy" and with the launch of this budget tablet, they surely have made the choice for a budget tablet quite easy.
Source: The Mobile Indian
More related stories below: