Updated on 18th June 2013
Huawei has launched the Ascent Mate 6.1 inch Phablet on 18th June in New Delhi India at a price of Rs. 24,900. This phone competes directly with phones like Samsung Galaxy Mega 6.3 (review here) which is priced at around Rs. 31,500 and has similar specifications and form factor.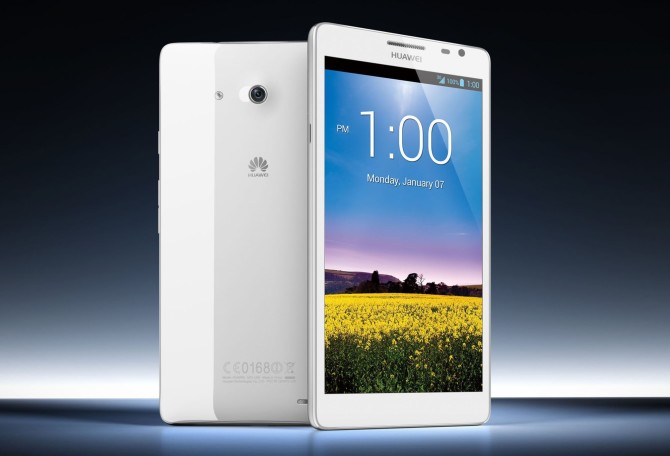 Video Review
Features And Specifications
 Operating system: Android 4.1
 User interface: Huawei Emotion UI
 Camera: 8.0-megapixel AF rear-facing camera with HDR, and 1.0-megapixel HD front-facing camera
 Video: 1080P video recording and video playback
 Screen: 6.1-inch HD IPS+ 1280 x 720 LCD touchscreen with Corning® Gorilla® glass
 Display: DLNA, Huawei AirSharing
 Weight: 198g
 Dimensions: 163.5 mm x 85.74 mm x 9.9 mm (6.5 inches x 3.4 inches x 0.4 inches)
 Processor: 1.5 GHz quad-core Hi-Silicon K3V2 + Intel XMM6260
 Battery: 4050 mAh (typical)
 Standby time: up to 9 days on WCDMA
 Connectivity: WiFi a/b/g/n with Wi-Fi Direct, and Bluetooth 4.0 LE + EDR
 Network: supports UMTS bands 850/900/1700/1900/2100 MHz; GSM 850/900/1800/1900 MHz
 Audio: 3.5 headset connector
 Supports: Gyroscope, GPS/GLONASS
 Compatibility: supports AVI, MPEG4, mp3, AAC+, Enhanced AAC, and reading and editing Microsoft Office and Adobe documents through WPS Office
 Pre-installed games: Dungeon Hunter 3
 Colors: available in Crystal Black and Pure White
Updated on 4th May 2013
Huawei, the Chinese smartphone maker has been gaining with speed in the global mobile market but the company has not been a great seller in the Indian market when it comes to mobile phones. It is now looking to turn its fortunes in India and the device it has chosen to do so is the Huawei Ascend Mate. It will be launched in the country in the first week of June with a price tag of around Rs.29,000 with the market selling price being expected to be priced below that.
Huawei Ascend Mate has a mammoth 6.1 inch HD display. The news comes courtesy of The Mobile Indian who have stated the information comes from their sources. The smartphone or rather the phablet has a RAM of 2GB and an internal storage capacity of 8GB which you can expand by another 32GB with the help of a microSD card. The smartphone will run on Android Jelly Bean and on top of that will get Huawei's propreitary Emotion UI.
The phablet gets an 8 Megapixel camera at the rear while the front camera unit has a resolution of 1.3 Megapixel. The phablet has a 1.5 GHz quad core processor which will be doing the duty in the processing department. It will feature 3G, Wi-Fi and Bluetooth connectivity. It will get the ability to run from a powerful 4,050 mAH battery which will double up as a powerbank as well which means you can charge off other devices from it too.
It will get a microSIM card and the user can access the device even while wearing gloves. The phablet will get the user dependent one hand operation functionality. You can use customise the device for single handed right hand or left hand operations which is a nice touch seeing the fact that it's next to impossible to operate such a huge device with a single hand. The phablet will prove to be a worth competitor of the Galaxy Note 2.
So, will you buy the big smartphone which can do everything your tablet can? The only issue that Huawei might have is that the brand is not well known in India and people might be reluctant to pay out this much for a device from a lesser known brand.