An Adhaar card is the most common form of accepted ID in India. However, it often carries wrong or outdated information. Read more to find How To Change Address & Other Details On Aadhaar Card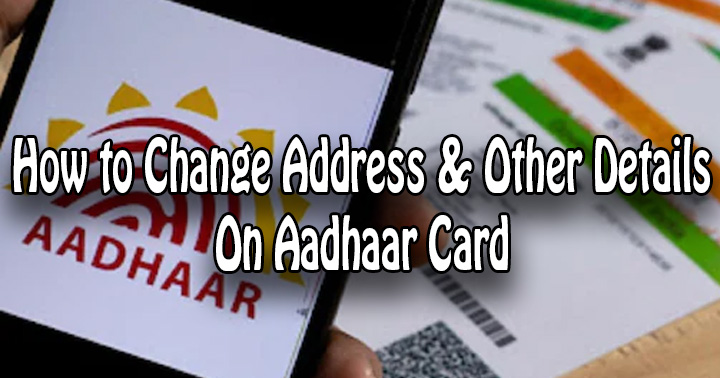 The Aadhaar card is issued by the Unique Identification Authority of India (UIDAI). It contains usual ID details the name, date of birth, gender, and address. Additionally, it has biometric credentials like fingerprints and iris.
Aside from proof of identity for an Indian citizen, the Aadhar Card can also be used to verify information like date of birth, address, and more. It can easily be linked with your phone number, bank, etc.
Also read: How To Download YouTube Videos On Desktop
However, the Adhaar card often carries details that are wrong or outdated. For example, it might carry the wrong date of birth or your old address. Fortunately, you can easily correct such errors now.
As per the UIDAI website, you can update your demographic (name, address, date of birth/age, gender, mobile number, email address, information sharing consent, etc) and biometric details ( iris, fingerprints, & facial photographs).
Also read: How To Find Phone Numbers Linked With Your Adhaar Card
You can update your incorrect to outdated details online, from the UIDAI website. All you need is the phone number linked to your Aadhaar Card. The Self-Service online mode offers address updates. You can directly place the update request on the portal. Here's how:
How To Change Address & Other Details On Aadhaar Card
Visit the portal https://ssup.uidai.gov.in/ssup/
On the homepage, click on 'proceed to update Aadhaar'
Now, log in to the portal with the Aadhaar number and a six-digit OTP sent to your mobile phone. Simply enter Aadhaar number and click on the 'Send OTP' option
Then, verify Captcha to proceed further.
Next, select the 'Update Demographics Data' option and from there, select the relevant options on the next page.
Choose the detail you want to change in the Aadhaar card and click on the 'Proceed' option.
Also read: How To Use Dark Mode On Your Apps For Late Night Reading
Now. you can change your name, email address, address gender, and other details.
Once done, click on the 'proceed' option.
Then, you will be asked to upload a soft copy of a supported Proof of Address (POA) document. You can use your voter ID, PAN number, birth certificate, electricity bills, etc.
Once done, click on the submit option.
Now, you can take a preview of the changes made.
Then, UIDAI will send an update request number (URN) that can be used to check the status of the Aadhaar card update process.
That's it!
Note: The list of the supported POA documents can be found on the UIDAI website.
Also read: How To Check If Your PAN And Aadhar Are Linked? If Not Linked, How To Link It?
We hope the above-mentioned article was helpful. Let us know in the comments section below.
More related stories below: