WhatsApp allows you to quickly send messages without physical access to your smartphone. Read more to find How To Send WhatsApp Text Without Typing On Smartphones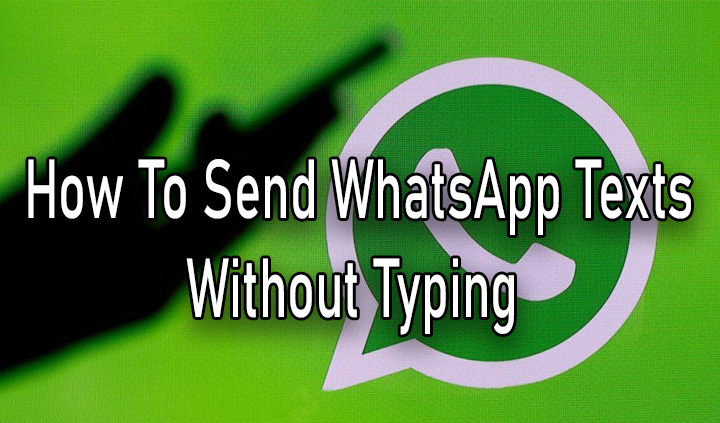 Now you can send WhatsApp messages without typing, thanks to the advanced voice recognition support on most new smartphones. This can be a huge help if you don't have physical access to your device.
Both Android devices and iPhones allow you to configure some settings to send messages for you, without typing. You just have to be in the proximity of your device.
The Google Assistant lets you send WhatsApp messages with your voice. WhatsApp also allows Siri to type with your voice on Apple iPhones. Here's how:
Also read: How To Get Windows 11 OS On Your Laptop
How To Send WhatsApp Textx Without Typing On Android Devices
Update to the latest version of WhatsApp and Google Assistant installed on your smartphone.
Now, tap on your profile photo from the top-right corner on Google Assistant to open Popular Settings
Then, scroll down to Personal results and turn on that function.
Next, say "OK Google" to activate the voice assistant.
To send a WhatsApp message, you can say "Send a WhatsApp message to…" with the name of your contact.
Now, Google Assistant will now ask you to tell the message you wanted to send over WhatsApp. Respond with your message in a clear voice.
Then, say "Okay, send it"
That's it! Google Assistant will send your message, without letting you type.
Note: Google Assistant may directly send a message to the contact you already sent a message to, without your approval.
Additionally, you need to enable Google Assistant to use without unlocking your phone by going to Popular Settings > Lock screen.
Also read: How To Download YouTube Videos On Desktop
How To Send WhatsApp Textx Without Typing On iOS Devices
Go to Settings > Siri & Search
Now, turn on Listen for "Hey Siri".
Then, scroll down and tap WhatsApp and enable Use with Ask Siri to activate Siri integration.
To send a WhatsApp message, you can say "Hey Siri! Send a WhatsApp message to…" followed by the name of the contact you want to message.
Next, Siri will ask you what you want to send. Respond with your message in a clear voice.
Then, a preview will appear on the screen with your message. Siri will also read it for you.
Now, Siri will ask you if you're ready to send the message. If you're fine with the text, simply say "Yes"
That's it!
Note: This method works with devices running iOS 10.3 and later. You will also be required to allow Siri to access your WhatsApp data.
You might also get an error message sometimes, saying, "Sorry, there's something wrong. Please try again."
Additionally, you can use voice assistants on your smartphone to read new WhatsApp messages. All you have to do is provide additional permissions.
Also read: How To Transfer WhatsApp Chat Backup From iPhone To Android
Conclusion
The messaging platform has over 200 million monthly active users in India and 1.2 billion users worldwide. It has been constantly adding new features throughout this year.
The new features will prevent the misuse of the instant messaging app as WhatsApp groups and forwards is infamous as a source of fake news circulation.
The Facebook-owned app has already added a new Mute button that allows users to mute chat directly from the notifications panel. WhatsApp also made it harder for users to be re-added to groups they've left.
Previously, the company rolled out 'Forward Message Limit' for Indian users to limit fake news and misuse of its platform. Now, message forwarding will be limited to five chats in India.
Also read: How To Check If Your PAN And Aadhar Are Linked? If Not Linked, How To Link It?
We hope the above-mentioned article was helpful. Let us know in the comments section below,
More related stories below: