As the market of smartphones in India is rising, more and more local, and branded companies are entering in this market and making a tough competition for the established smartphones maker like Samsung, sony , LG.   Recently ADCOM- Advantage Computer, a computer components and product distributor in Indian local market launched cheaper range of smartphones starting from Rs. 3285 to Rs. 6999. And it willing to provide latest technology products to Indian people at cheaper cost. These smartphones features 5 inch HD LCD display, dual core processor, 2MP camera, Android 4.1 with 256MB RAM. By launching these cheap products ADCOM wants to reach non smartphone users of India located in villages and small cities.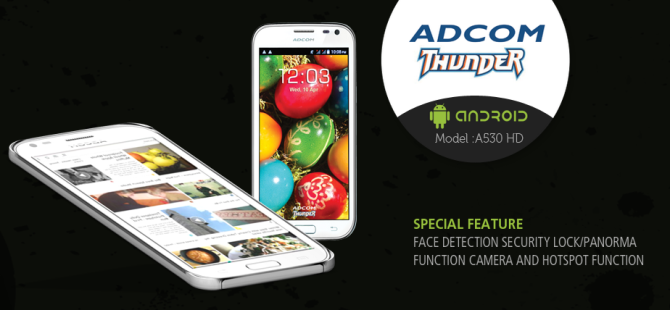 ADCOM launching these smartphones under Thunder series. The most expensive one is ADCOM Thunder A530 which will cost INR 8,990. It has 5.3 inch LCD Display with dual core processor. Its running Android jelly bean 4.1
Mr Sanjeev Bhatia Founder ADCOM Said "Adcom is committed to giving the consumers the latest technology and a chance to be a part of this ever-changing and continuously developing cell phone market and we are delivering the same".
For More Stay tuned with   Intellect Digest India   and like us on   Facebook   or follow us on   Twitter  .
More related stories below: