Apple created a stir this year, with the launch of its most expensive flagship smartphone, till date. However, the bezel-less iPhone X has already started running into problems. Several users have started reporting problems with the new iPhone devices. Major issues include problems with display and earpiece. Read more to find about Apple iPhone X Defects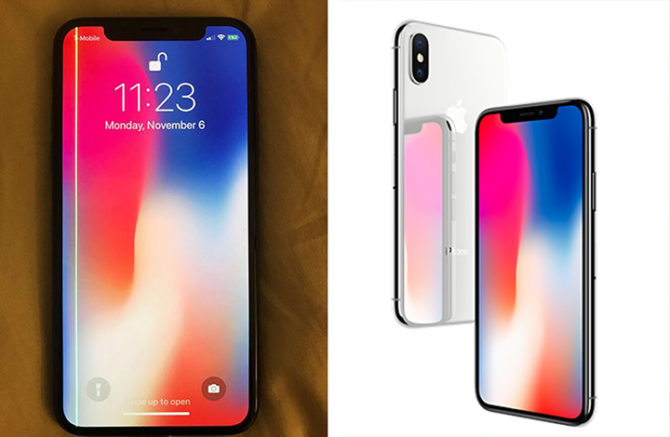 Apparently, the OLED display on some Apple iPhone X units has developed a thick green line (running from top to bottom). The display was also reported to be unresponsive in cold weather. Meanwhile, some other users have reported a buzzing sound from the earpiece speaker of iPhone X. The iPhone 8 units also had a similar problem. Apple replacing the affected units.
Display Defect
Just as an unresponsive display was becoming an issue, the green line has come to the forefront. Some of the iPhone X units have developed a vertical green line on side of the display. Affected users shared the issue via Twitter. An iPhone X referred to it as, "Green line of death."
Wife's iPhone X just developed a column of bright green pixels 😰 good thing we'll be near an Apple store this week @AppleSupport pic.twitter.com/VzQlKnqYoC

— Nate Heagy (@nheagy) November 6, 2017
In some cases, the green line is thick and isn't disappearing after restarting or resetting the device. As per MacRumors, at least 25 users have reported the green line defect on various forums. As per reports, the thick green line developed over few days/weeks of usage. It wasn't present right from the beginning.
Fortunately, Apple is reportedly replacing the affected units free of cost. However, the Cupertino giant hasn't issued an official statement on the issue as yet. The new issue might be related to the diamond sub-pixel pattern. It may have been caused by an electrical fault in some units. We will have to wait for more details on this one.
As far as unresponsive iPhone X screen issue goes, Apple had already promised a software update as a solution.
Also read: Samsung Exynos 9810 Chipset Comes with 3rd Gen Custom CPU
Buzzing Earpiece
The 'buzzing sound' from the earpiece speaker of iPhone X devices is causing problems for many users. Reportedly, the sound gets more noticeable at higher volume levels. Several affected users have reported the earpiece issue on Reddit and Twitter. The sound is reported to be similar to rattling or clipping.
"It seems to be rattling/clipping when playing anything at high volume, even if it's just someone talking. I even got my phone replaced yesterday, but the new unit has the same issue," said one of the users in a Reddit thread.
Apparently, the replacement units also seem to carry the annoying earpiece sound. So far, Apple has not commented on the earpiece defect. Previously, the iPhone 8 and the iPhone 8 Plus users had complained about a similar issue. In October, Apple released iOS 11.0.2 update to fix the sound.
Also read: Billion Capture+ Review- #MadeForIndia Smartphone
Conclusion
Just like previous generation iPhones, the Apple iPhone X is getting its own version of 'Bendgate'. While a software update might fix the earpiece issue, we are not sure if it is the same defect as the one on the iPhone 8. As far as, the 'Green line of death' is concerned, it is most likely a case of faulty hardware. Additionally, the latest iOS 11.1 seems to be causing battery issues across iOS-powered devices. We will have to wait and see how Apple responds to these defects.
More related stories below: