Cisco and BITS Pilani is tied up to enable student-faculty collaboration within and beyond the campus walls by connecting 11,000+ students and 700 faculty members. This tie up is first-of-its-kind in India. This platform is aimed at creating a dynamic and collaborative learning environment by connecting classrooms through an MPLS – based data network. With video platform, enables professors to record lectures and make those lectures available for replay. Then these lectures can be accessed from anywhere with an internet connection. It allows BITS to call experts from across the globe for guest lectures. BITS have four campuses, every campus can access everything from their location. This technology will also help BITS for the placement of students.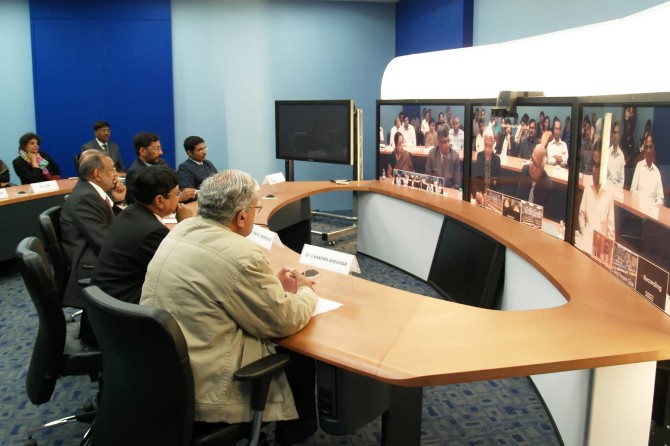 Bijendra Nath Jain, vice-chancellor, BITS Pilani, told "BITSConnect 2.0, which is built on Cisco technology, comes at a time when the Institute is on its way to become a top research-led university in Asia. This joint University-Alumni initiative will provide seamless integration of all campuses; create new avenues of research collaboration and knowledge sharing among faculty, students and researchers worldwide. Bits connect 2.0 initiative will further strengthen industry linkage and enable remote placements with minimal travel costs to prospective employers"
Minhaj Zia, director, Collaboration Sales, Cisco India & SAARC, "BITS Pilani is one of the leading institutes in India focused on imparting quality education and creating a distinctive environment for research and innovation. While they have been on the cutting-edge of technology use for years, this initiative is taking that to a new level and will foster new methods of collaboration, enrich the in-class experience, and help better utilize school resources."
About BITS
BITS is the premier university and leader in education in India. BITS Pilani has 700 full time faculty and has 11,000 on-campus & 19,000 off-campus students. BITS Pilani has been a pioneer in the Indian higher education
About Cisco
Cisco is the worldwide leader in technology. It helps organization to form the opportunities by providing them latest technology.Cisco products are supplied in India by the channel partners of Cisco Systems International B.V.
More related stories below: