Now you can use dark mode on the desktop version of Facebook. The social network giant has redesigned its desktop interface. Read more to find How To Use Dark Mode On Desktop Version Of Facebook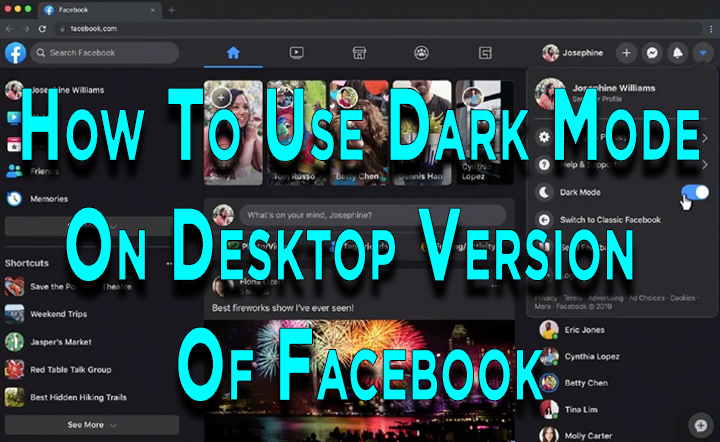 Facebook is now rolling out a new web interface to the majority of the users. It is touted to be faster than the previous version.
The social network claims that the new design makes the website easier to use. Additionally, it brings the much-awaited dark mode.
Also read: How To Change Notification Sounds On Android Smartphones
The new design was first announced at F8 last year. Now, all users across the globe will get to use it.
The new Dark Mode toggle lets users easily switch to the greyscale look. It can be used to reduce the strain on the eyes. Here's how to access it:
How To Use Dark Mode On Desktop Version Of Facebook
Navigate to the top-right dropdown menu
Click on the new Dark Mode switch
That's it
Apart from the dark mode, Facebook has redesigned everything from the chat window to the user profile.
The new sidebar (on the left) houses your profile link, a dedicated COVID-19 Information Centre page, access to Messenger chats, etc. The Friends list is on the right corner.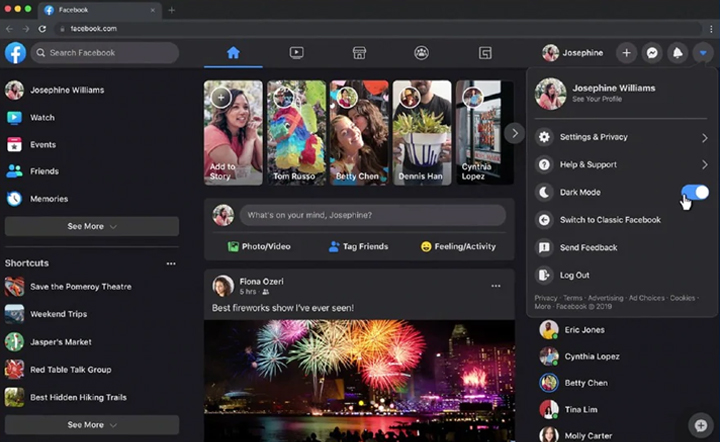 As usual, the feed takes all the center space. A '+' sign on the top panel lets you create a post or a life event. You can also use it to create events, pages, groups, and ads.
The top panel comes with a 'Watch' section (lists recommended videos based on viewing history and likes) and a new 'Gaming' option (lists all the games you can play without leaving Facebook).
Additionally, you can even 'preview a new Group you're starting in real-time, and see what it looks like on mobile before you create it'.
Also read: How To Enable Bilingual Support In Google News App
Conclusion
With the new design, the Facebook website offers more streamlined navigation. It enables easier discovery of videos, games, and groups.
The social media giant claims that the home page and other page transitions load much faster. It is now closer to the mobile experience.
Also read: How To Use Split Screen on Android Smartphones
We hope the above-mentioned article was helpful. Are you excited to try out the new dark mode on Facebook? Let us know in the comments section below,
More related stories below: