Are you not happy with slow speed Wi-Fi at your home? Isn't your Wi-Fi reliable enough and you have to set it up again and again to bring it to working condition? If you are facing any of these issues with your Wi-Fi then Google does have a solution for you!
Google has announced its OnHub Wi-Fi router in partnership with TP-LINK which lets you stay connected without any trouble. The OnHub router is easy to set up and promises faster Wi-Fi speeds, reliability and security. It makes use of smart software to select the best Wi-Fi connection on your existing internet service for faster connection.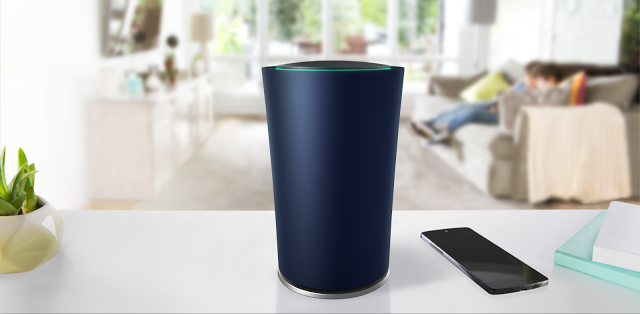 Users can also set up as well as manage their Wi-Fi via Google On app (available on Google Play Store and Apple Store). The app will let you keep a track of the bandwidth which connected devices are using. Users can also run a network check to know and get suggestions, in case, there is any issue with the Wi-Fi. The password of Wi-Fi can be known with a single tap.
With OnHub-Wi-Fi router, users do not have to worry about updating it. The device automatically updates itself with latest features and other upgrades like security. It supports all smart devices with Bluetooth Smart Ready, Weave or 802.15.4.
On design front, the OnHub flaunts its impressive circular. It is free from unmanageable cords and features internal antennas instead which keeps working in the background.
Key Features Of OnHub Wi-Fi Router
CPU: IPQ8064 Dual Core 1.4GHz
e-MMC flash: 4GB
Memory: 1GB
NOR flash: 8MB
LED: Six tri-color arrays
USB port: 1x USB3.0
Dimensions: 4.1 x 4.6 x 7.5 inches
Supports devices with Bluetooth Smart Ready, Weave or 802.15.4
Price and Availability
The Google OnHub Wi-Fi router is priced at $199.99 (approximately Rs. 13,000) and is available for pre-order in the U.S via online retailers such as Google Store, Amazon and Walmart.com. There is no word on pricing and availability of the device in the Indian market as of now. We will update you as soon as more details will be made available. Stay tuned with us!
Also Read: Google Play Reduces Minimum Purchase Price For Apps To Rs. 10 In India
More related stories below: