Earlier this year, the museum selfie match feature on Google's Arts & Culture app became very popular. Now, the Art Selfie feature is globally available. Both Android and iOS users can find their doppelganger among museum art pieces by matching their selfies to objects in the app's database. Read more to find about How To Use Art Selfie Feature On Google Arts & Culture App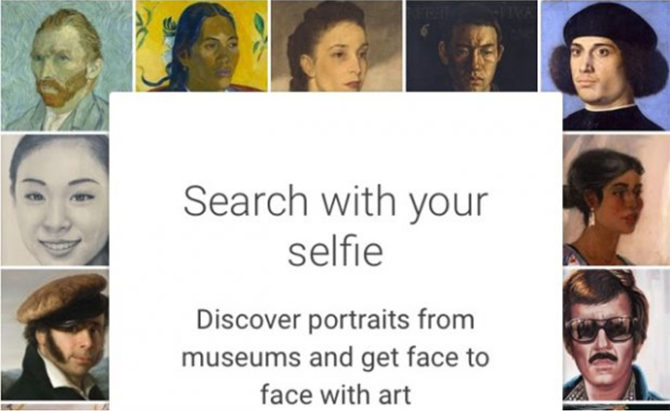 The Google Arts & Culture app allow users to visit top exhibits in the museums across the world. It was launched in collaboration with over 1,200 museums, galleries, and institutions in 70 countries.
You can zoom in on artworks in mind-blowing detail. The app also offers thousands of stories, photos, videos, and manuscripts. You can also curate your own collections and share with friends. The informative app also offers tours of iconic sites, famous buildings and natural wonders (on screen and VR).
Art Selfie Feature
The Art Selfie feature in Google Arts & Culture App matches your face to a piece of art. It is now getting a wider integration in Google Lens. The new feature is powered by computer vision technology based on machine learning. It compares your selfie with faces in artworks in the app's database (provided by Google's museum partners). The results are shown with a percentage that estimates the visual similarity of each match and your face.
Also read: How To Use Group Video Calling Feature On WhatsApp
Availability
The museum selfie match feature is now available in all countries across the globe. Users can start downloading the Google Arts & Culture from Google Play Store or App Store. It is available for both Both Android and iOS users.
Here's How To Use Art Selfie Feature On Google Arts & Culture App
Download the free app on your smartphone via Google Play Store or and Apple's App Store.
Navigate to the dedicated section for taking selfies and comparing them with famous artworks.
Next, scroll down to find 'Is your portrait in a museum?' box
Scroll past featured stories to see a white box surrounded by portraits.
Now, line up your face inside the boxed area and click a selfie.
Next, the app analyses your face and shows the portraits that you resemble along with a percentage of each comparison.
Also read: How To Use Dark Mode On YouTube for Android
Conclusion
The search engine giant claims that the Art Selfie feature has been introduced to 'make art more accessible to everyone.' After a selfie match, you can easily discover more details about specific art pieces and artists. Google has also collaborated with more partner institutions to double the number of artworks previously available.
"You can be matched with tens of thousands of portraits – sometimes with surprising results like the heart-warming example of a woman in St Louis, US whose selfie was matched with a portrait of her great-grandmother, Emma. Give it a try and who knows, you might share similarities the portrait of Emperor Gojong or one of Frida Kahlo's works," said Michelle Luo, Product Manager, Google Arts & Culture.
Also read: How To Manage Daily Tasks With Google Assistant Routines Feature
What do you think of the new Google Arts & Culture App? Are you excited to use the How To Use Art Selfie Feature and find your doppelganger? Let us know in the comments section below. Please feel free to share your finds with us.
More related stories below: