WhatsApp is one of the most messaging platforms nowadays. It holds a record of most of the personal communication. Now, the Facebook-owned app has added fingerprint authentication to its Android app. Read more to find How To Use Fingerprint Lock Feature On Whatsapp For Android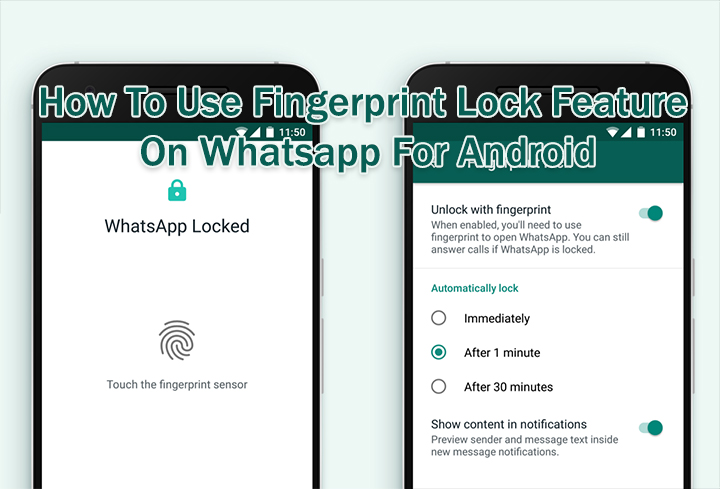 With data breaches on the rise, the need for security is paramount. WhatsApp has become a necessary communication tool. It ends up holding a lot of personal and important information.
Now, the Facebook-owned messaging platform has announced that it is adding a fingerprint lock to its Android app. Users can also choose to use Face ID for biometric authentication.
The iOS app got the Touch ID (fingerprint recognition) and Face ID (facial recognition) in February this year.
Now, Android users can now have the app lock automatically and unlock only with their fingerprint. Of course, your smartphone needs to have a fingerprint sensor.
You can also choose how soon the app automatically locks (from 1 minute to 30 minutes). The visibility of message content in notifications is also optional.
The new feature starts rolling out soon for Android users across the globe. Here's How To Use Fingerprint Lock Feature On Whatsapp For Android:
Also read: How To Mute WhatsApp Notifications Without Opening The App
How To Use Fingerprint Lock Feature On Whatsapp For Android
Open Settings section on the WhatsApp app on your Android smartphone
Navigate to the Account section
In the Privacy > Fingerprint section choose Unlock with fingerprint option
Next, confirm your fingerprint
That's it
Additionally, you can choose the automatic lock time (immediately, after 1 minute, or after 30 minutes) and content shown in notifications.
Also read: How To Hide WhatsApp Photos & Videos From Your Smartphone's Default Gallery
Conclusion
The Facebook-owned messaging platform has over 200 million monthly active users in India and 1.2 billion users worldwide.
Recently, it rolled out 'Forward Message Limit' for Indian users to limit fake news and misuse of its platform. Message forwarding is now limited to five chats in India.
The company also added a new Mute button that allows users to mute chat directly from the notifications panel. Whereas the WhatsApp group video/ voice calling features now allow you to chat with up to four people at the same time.
Additionally, the 'Swipe to Reply' gesture support lets you respond to a WhatsApp message by simply swiping it to the right side. While the 'Picture-in-Picture' Mode to Android app that will allow you to watch YouTube videos while checking the messages.
Also read: How To Stop WhatsApp From Using Up Your Phone Storage
What do you think of the above-mentioned tip? Share your thoughts with us in the comments section below.
More related stories below: