WhatsApp makes it pretty easy to share photos and videos with your friends and family. Everyday users receive a chunk of media content on the messaging platform. However, unlike social media platforms, WhatsApp content is automatically saved to your phone's local storage. It ends up cluttering your photo gallery. However, you don't necessarily have to manually clean your photo gallery. Read more to find about How To Hide WhatsApp Photos & Videos From Your Smartphone's Default Gallery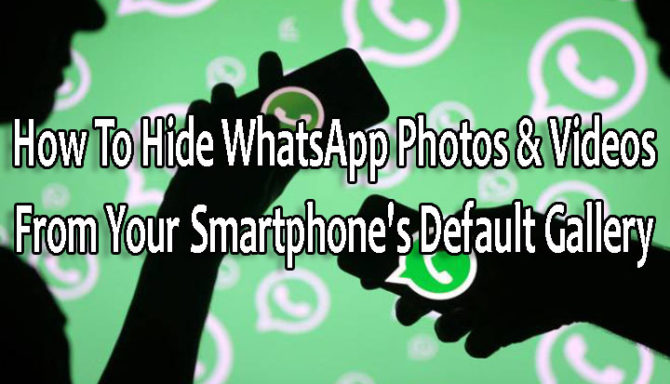 Recently, WhatsApp introduced a new feature available for the Android version of the app that prevents photos and videos from automatically being saved to your default gallery. You can try it by joining the WhatsApp beta from Google Play. It only blocks the new media received. You can access this content from the original WhatsApp thread.
Also read: How To Try Apps Without Downloading On Android Smartphones
How To Hide WhatsApp Photos & Videos From Your Smartphone's Default Gallery
Install the latest WhatsApp beta for Android.
Tap the three vertical dots in the top right.
Next, open Settings > Chats.
Under Media visibility, make sure 'Show media gallery' is deactivated.
Alternatively, you can override the default app setting per chat basis:
Enter a chat threads.
Tap the contact or chat name at the top.
Next, navigate to Media and tap on 'Media visibility.'
Now, you get to choose from three choices: Default, Yes, and No. 
Select 'No' option to hide all photos and videos from your smartphone's default gallery for this individual conversation thread.
Also read: How To Mute WhatsApp Notifications Without Opening The App
Conclusion
You will still continue to receive photos and videos in WhatsApp. While they will not show up in your smartphone's default gallery, they will still be visible in the WhatsApp chats themselves (unless you delete whole chat thread).
WhatsApp has been constantly adding new features throughout this year. The messaging platform has over 200 million monthly active users in India and 1.2 billion users worldwide. Recently, it rolled out 'Forward Message Limit' for Indian users to limit fake news and misuse of its platform. WhatsApp allowed users to forward messages for up to 20 chats. Now, message forwarding will be limited to five chats in India.
Recently, WhatsApp added a new Mute button that allows users to mute chat directly from the notifications panel. The messaging platform also announced the addition of 'Picture-in-Picture' Mode to Android app. It will allow users to watch YouTube videos while checking the messages. The company also added WhatsApp group video and voice calling features. It allows you to chat with up to four people at the same time.
WhatsApp has also added the 'Swipe to Reply' gesture support to its Android app. It lets you respond to a WhatsApp message by simply swiping it to the right side. The new feature was introduced on the iOS app in June last year. The messaging platform is also said to support external sticker packs (users will be able to download external sticker packs).
Also read: How To Identify Songs Playing Near You Via Google Sound Search
More related stories below: