Lenovo introduces its first android based dual mode hybrid notebook. Lenovo made this device affordable and launched it with a price tag of INR 19,990. The device is light weight and thin with Accu Type keyboard. You can use it as a laptop or switch to Stand Mode. You just need to flip the screen 300 degrees to enter in stand mode. The weighs of this device is 1 Kg. The device is only 17.3mm thick. Lenovo says that it has customized this notebook on the top of Android Jelly Bean 4.2. means it comes with Lenovo's user interface on the top of Android. Lenovo also claims that it can sense up to ten fingers at a time means it has 10-point multi-touch display. It also comes with Accu Type keyboard for more comfort while typing gives less errors.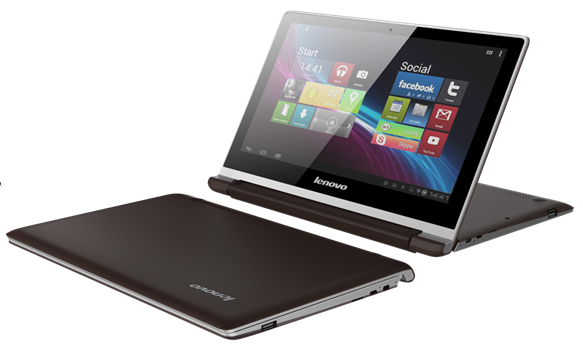 Talking about specifications it has 10 inch HD display with 1366×768 pixel resolution. As we have mentioned display does support up to 10 fingers at a time. Talking about battery, you can work on it up to 9 hours according to Lenovo.it running on Android jelly bean 4.2 with Lenovo's UI on top. There is Cortex A9 quad core processor coupled with 2GB RAM. There is 32GB SSD storage with this device. There is a 0.3-megapixel webcam too at front for video calling.
Amit Chatrath, National Product Manager, Consumer Products, Lenovo India said, "The market is witnessing a surge in Android based smart connected devices as it continues to be the OS of choice across form factors. Lenovo is leveraging this platform with the A10 an affordable yet power packed device, as it offers the flexibility to address the users' increasingly varied demands."
Specifications of Lenovo IdeaPad A10
10 inch HD Display
1366×768 pixel resolution
Android Jelly Bean 4.2
Cortex A9 quad core processor
2GB RAM
32GB SSD Storage
0.3 megapixel webcam
Micro USB port, Micro HDMI port
For More Stay tuned with   Intellect Digest India   and like us on   Facebook   or follow us on   Twitter  .
More related stories below: