Choosing a right smartphone that not only suits your needs but also comes in your price range can be a little demanding considering the options that you might have in any segment. Today we are going to compare the four phones to help you decide your best pick. These phones are Micromax campus, Zen701 FHD, Gionee ElifeE5 and Gionee ElifeE6. These all have similar specs and features with some unique offerings on all of these phones. We look into these aspects in detail and share with you which phone suits you best.
We also share a detailed comparison video, which is embedded below with detailed benchmarks and features comparison including camera sample comparisons.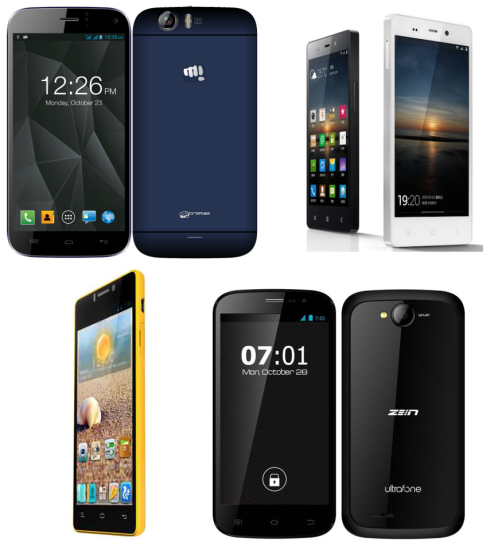 Specifications Comparison
| | | | | |
| --- | --- | --- | --- | --- |
| Phones | Zen Ultraphone Amaze | Micromax Canvas Turbo | Gionee Elife E5 | Gionee Elife E6 |
| Display | 1020 X1920 pixels | 1080×1920 pixels | 720×1280 pixels | 1080×1920 pixels |
| Screen size | 5" | 5" | 4.8" | 5" |
| Dimensions (mm) | | 137.00 x 69.00 x 6.85 | 142.50 x 69.40 x 7.90 | |
| price | 17-18000 | 18-20000 | 15000 | 20-22000 |
| Phones | Zen Ultraphone | Micromax Canvas | Gionee Elife E5 | Gionee Elife E6 |
| Processor | 1.5GHz  quad-core | 1.5GHz  quad-core | 1.5GHz  quad-core | 1.5GHz  quad-core |
| RAM | 1GB | 2GB | 1GB | 2GB |
| Internal Storage | 16 GB | 12.47GB | 16GB | 32GB |
| | (expandable) | ( Not expandable) | (Not expandable) | (Not expandable) |
| Processor maker | Mediatek | Mediatek | Mediatek | Mediatek |
| Front Camera | 8 MP | 5 MP | 5 MP | 5 MP |
| Rear Camera | 13 MP with LED flash | 13 MP with LED flash | 13 MP with LED flash | 13 MP with LED flash |
| Graphics with nina mark2 | 27 frames ps | 34frames ps | 55.2frames ps | 34.2frames ps |
| Display | LCD IPS | LCD IPS diplay | Hgh def 720 | Full HD |
| Graphics Benhmarks scores with Nenamark 2 | 27 frames ps | 34frames ps | 55.2 frames ps very good for gaming | 34.2 frames ps |
| Speakers | Sound is loud and clear but gets muffled when put down | The speaker gets muffled when put down | The sound is better amongst all | DTH surround system |
Detailed Comparison Video
We are sure you have got some idea about the phones configurations and the hardware fro the table above however we would further like to tell you the difference or similarities in detail. Read on.
While all these phones have the same processing unit, same 4.2 android versions and come in the same mid segment range. The differences are many:
Features Comparison
Design:
Gionee E6 boasts off an OGs solution, is OSG sophisticated, has interesting design, very sleek, premium looks and sharp edges. It's user interface have been customised to give you extra facility. Its lock screen gives amibo user interface which can be changed using custom launcher. It is 7.9 mm thick and has three touch capacitative buttons. Speakers are at the bottom so sound doesn't get muffled.

Micromax Canvas Turbo: With a thickness of 8.6mm Micromax canvas has 5" display, the speaker quality is good. The port for data transfer is at the top and it has non expandable 16 GB memory.

Zen Ultrafone amaze 701 FHD is the most different looking out of these four phones. The 5" display is common but the looks set it apart. Its front camera has the highest resolution and its battery is removable. This is also the only phone with an expandable memory, texture at the back and the corner gorilla coating to save it from scratches.
Elife E5 is the slimmest of all phones at 6.5 mm, very sporty and vibrant; it has a unibody structure and 720 p display. The contrast ratio of this phone is very nice. With 3.5 standard audio Jack and 8 mp rear camera, this phone has a strong build and is very strong with polycarbonate shell. This is also the least expensive of all.
Camera
E6 pictures are very clear, natural and vibrant, quality is slightly better than rest because of the OGS technology.

Micromax colours are also good, sharp and vivid.

But E5 picutures look orangish, and over saturated.

Zen 701 amaze can be compared to Micromax canvas in terms of picture quality
One interesting fact we would like to bring to your notice is that while two phones, zen 701 FHD and Gionee E5 have 1 GB RAM and the other two have 2 GB RAM, the 1GB phones were performing equal or better than their counterparts. When we spoke to Zen team, we found that the Mediatek chipset is better optimised with 1GB and anything more than that does not get utilised properly and this can be clearly be seen with these phones performances.
Speakers
Gionee E6 has DTS surround system and speakers are at the bottom which works better because the sound doesn't get muffled unlike other phones.

Micromax Canvas Turbo has rear speakers and keeping them on any platform, the sound gets muffled

Zen 701 FHD has good sound quality but here too sounds gets muffled

E5 sound is the loudest but similar to others, keeping it on any platform subdues the sounds.
Sound wise we recommend both Gionee Elife E6 as well as E5 as they both had the most clear sounds however from the design perspective E6 is better because the speakers in this phone is at the bottom.
Battery
All the 4 phones come equipped with 2000 mAh battery and offers almost equal talk time,
But because E5 has lower display resolution and smaller screen, it offers lesser consumption of battery and thus a slightly better battery time.
E6 also optimises on the synchronisation technology and has good battery life.
Other two give decent battery life and should last about a day for all the moderate users.
Conclusion
E6 comes very close to the top. With its 32 GB highest internal memory, has hand gesture controls that other phones only offer partially. It also stands out because of accessories; screen protectors and leather flip cover, in the ear ear-phones and a sophisticated design.

Micromax canvas is the best so far from Micromax. It has very good display and a reasonably well overall quality. There is no expandable memory so may fall short on some accounts. There are no pouches, flip covers or screen protection and it also has  good sound quality.

Zen 701 amaze FHD- It comes close to vanilla android experience, has expandable memory, dual SIM and a free case as an introductory offer. Its 1 GB still gives competition to other phones but not good enough for high end games because of the display.

E5 is the cheapest, has best display in spite of AMOLED display, provides best gaming experience, come with a flip cover, screen protector and in the ear earphones.
So, If looking for sophisticated fully loaded business phone, go for Gionee Elife E6. If looking for good build with reasonably good features, go for either Zen Ultrafone Amaze 701 FHD, or Micromax Canvas Turbo. If you are a gamer, we suggest you to go for Gionee Elife E5 because of the best graphics performance among these 4 phones and not very high price.
More related stories below: