Now you can stay active on two WhatsApp accounts simultaneously. The multiple accounts feature is finally coming to WhatsApp. Read more to find out How To Log In To Two WhatsApp Accounts At Same Time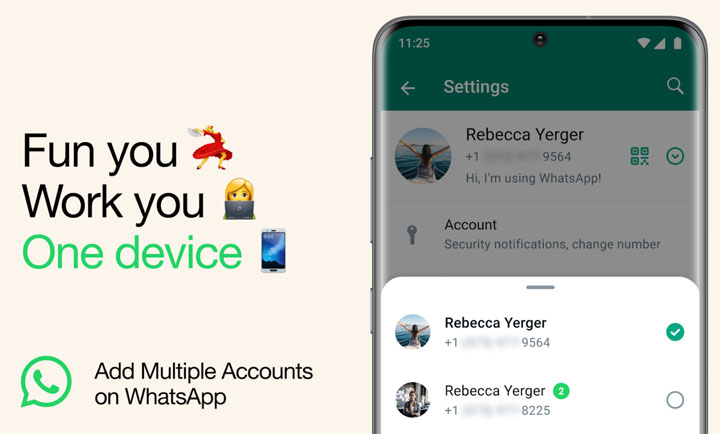 WhatsApp has finally announced the multiple accounts feature. This will allow users to switch between personal and work accounts with ease.
The much-awaited feature has been announced by Mark Zuckerberg. It will be rolled out to Android devices in the coming weeks.
Now, users will be able to log in to a second WhatsApp account without logging out or using a second device. You will be able to read and reply to messages from both accounts.
Also Read: How To Open Windows 11 PC in Safe Mode
"What's better than having a WhatsApp account? Well, of course, it's having two," the Meta-owned messaging platform said in a blog post.
To use the new capability, users will need a second phone number and SIM card. You can use a phone that accepts multi-SIM or eSIM. Here's how you can set up a second account:
How To Log In To Two WhatsApp Accounts At Same Time
Open your WhatsApp settings.
Now, click on the arrow next to your name.
Then, click "Add account" and follow the instructions.
That's it!
Note: You can control your privacy and notification settings on each account.
Also Read: How To Use WhatsApp Account On Second Phone
Conclusion
WhatsApp is one of the biggest messaging platforms in the world. The Meta-owned app is constantly adding new features and capabilities.
With the new update, the company is addressing a much-needed demand for many users who need two accounts. It will also eliminate the need for third-party solutions. WhatsApp claims that the content on both accounts will be secure and private.
Also read: How To Check If Your PAN And Aadhar Are Linked? If Not Linked, How To Link It?
We hope the above-mentioned article was helpful. Let us know in the comments section below.
More related stories below: