Reliance Jio Phone has started shipping now. The new features phone comes at an 'effective price' of Rs 0. While you have to deposit Rs 1,500, you can return the phone after three years and get a full refund. While this offer seems quite good, it comes with certain terms and conditions. For example, the Jio Phone refund will be provided only in a 3-month window. Also, to claim the refund, you need to make recharges worth Rs 1,500 per year. Planning to get the new features phone. Let's point out hidden conditions. Here are Things You Need To Know Before Buying Reliance Jio Phone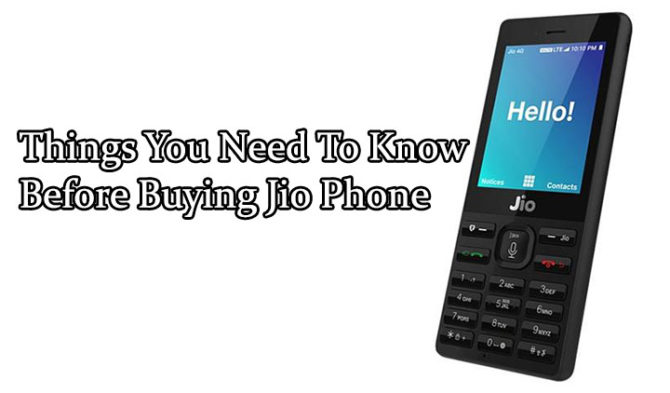 The Reliance JioPhone sports a 2.4-inch display with a resolution of 240 x 320 pixels. The 4G feature phone is supported by 512MB RAM and 4GB internal storage (expandable via a micro SD card). On the camera front, it will sport a 2-megapixel rear camera and VGA front camera.
The dual-SIM phone includes 4G VoLTE, Wi-Fi, Bluetooth, GPS, Headphones, FM radio, and NFC as connectivity options. It comes pre-loaded with apps like Facebook and an internet browser. Users will be able to access digital content with the free subscription to Jio apps, 'Tap and Pay' solutions and a panic button. It comes with dedicated buttons for MyJio, JioTV, JioCinema, and JioMusic apps.
However, since Reliance is using the heavily subsidized phone to gain a huge user base, it comes with several hidden conditions. For example, Jio Phone warranty is for one year only. Also, Reliance Digital reserves the right to ask for unused devices. Moreover, Reliance Retail can track the location and record voices of the users.
Also read: Zopo Flash X1, Flash X2 Offer 18:9 Bezel-Less Display At Budget Price
Here are Things You Need To Know Before Buying Reliance Jio Phone:
The Jio Phone comes with a 1-year warranty from the date of delivery (six months on the charger). This warranty will be voided if the handset's seal, serial number code or date code are damaged. Modifications like rooting, reverse engineering, unlocking, jail-breaking will also void the warranty.
The SIM-locked handset is bound to the Jio network and a fixed number. However, the company 'may, solely at its discretion, allow the use of the Jio Phone with any other compatible network from time to time.'
To get a refund you have to actively use the feature phone for 3 years. Also, you have to return the new device within 3 months after 3 years. According to Reliance, users have to return the device 'on or after the expiry of thirty-six months but before the expiry of thirty-nine months from the date of the first issue.' If you miss this deadline, the Rs. 1,500 refundable sum will be forfeited.
Users get to retain the SIM card before returning the handset. It will continue to work.
On a worrying note, the Reliance Retail (RRL) can access to the device's geolocation through Bluetooth and Wi-Fi signals, calendar entries and other technology. This information can be used to offer location-related notifications or information. However, the location settings on the phone must be turned on for this data collection. The company can also collect location data anonymously to 'provide and improve location-based products and services.' Jio states that user data collected via cookies will be treated as non-personal information.
The user gives the 'consent to transmission, collection, maintenance, processing and use of your location data and queries to provide and improve such products and services', simply by using location-based services on the handset. Also, using a content app means that the user has agreed to share consumption data via 'cookies, beacons, and other technologies in certain areas.'
Additionally, the company can collect and store recordings of your voice, when you use voice commands to control a service. These recordings can be shared with speech-to-text conversion services.
Finally, you cannot sell, lease, transfer or assign the Jio Phone to someone else.
Also read: Nokia 8 Vs OnePlus 5 Comparison – Which Phone is Better?
Conclusion
The Reliance Jio Phone comes with several tricky terms and conditions. While the 4G feature phone does offer a value for money, it does raises some privacy concerns. Be careful, before proceeding to buy this device as purchasing the device means you accept these conditions. Will you go for the new feature phone? Let us know in the comments section below.
More related stories below: