Samsung has launched its Android TV device at Mobile World Congress 2013 in Barcelona Spain, they call it Samsung HomeSync. Now the question rises what is it an what is the use of it.  It is an android tv box. It makes your HDTV a smart TV and also gives you an option to mirror the display of your Samsung Galaxy smartphones to a Samsung HDTV. It has 1 TB of memory.
So you can easily sync your data to multiple devices. It also have private or shared option of data so you have the option to keep your date private. To keep private your data you have eight separate account support in it. So you can make accounts of each member of your family. Each member can upload and download content from multiple devices and easily share with other member of family. It gives you best android experience letting you stream contents directly to TV wirelessly at a full HD 1080p. You can also access play store through it.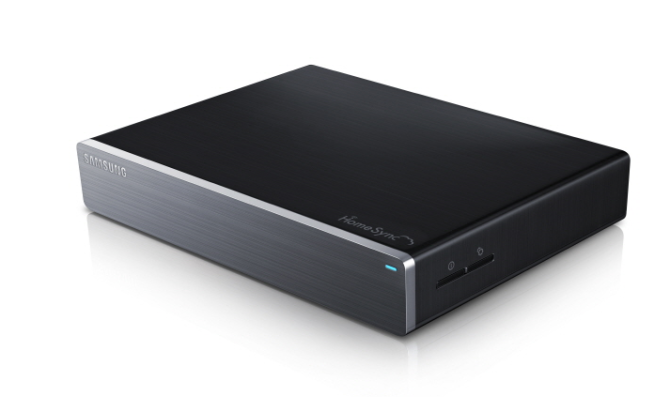 Touchpad and Remote Mouse mode
In touchpade mode It makes your galaxy mobile as remote mouse of your Samsung tv. So when you moves the device physically then it uses accelerometer to move the arrow on the screen. By tapping you can select apps on TV.
While playing games, watching videos, surfing internet, accessing apps on your mobile device, it directly streams them to your Samsung tv.
So in this era of technology when people expecting not to use the remote of their TVs ,companies are making mobile devices as remote. It will be interesting to see that which company will be successful to remove the remote from the TV.
Samsung have not speak about its price and launching dates globally but will be available from April 2013 in the US.
 Key Features And Specifications
1.7GHz Dual Core processor
NFC
1 TB Hard Drive
1GB DDR3
Android v4.1 (Jelly Bean)
WiFi
Bluetooth
a micro USB slot
a HDMI out
two USB 3.0 slots
Check our more new launches from MWC 2013.
More related stories below: