Vodafone has launched a new 4G WiFi device. The new Vodafone R217 4G MiFi device comes with 7-hour battery life and micro SD card support. It is priced at Rs 1,950 and will be rolled out in all the circles with Vodafone's 4G coverage. With this entry, Vodafone will compete against the Reliance Jio device. The new 4G WiFi device comes with many interesting features. Let's how it compares to its rival. Read more to find about Vodafone 4G MiFi Vs Reliance Jio JioFi – Which Portable WiFi Device Is Better?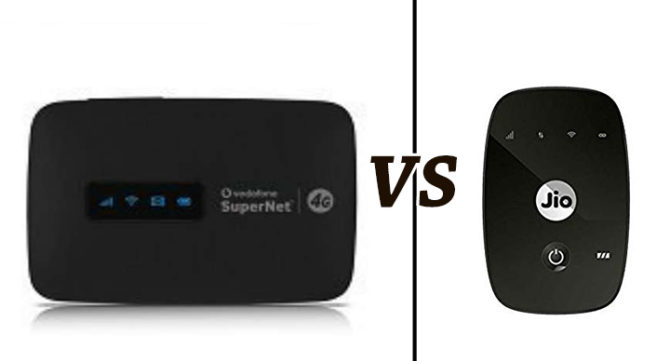 Price and Availability
While the Vodafone R217 4G MiFi Device is listed at an original price of Rs 3,690, it is currently available at a discounted price of Rs 1,950. The Reliance Jio JioFi was introduced in 2016. It is now available at Rs 999.
Also read: New Sony Portable Mobile Projector Launched In India
Specifications and Features
The new Vodafone 4G MiFi Device supports up to 150Mbps speed (up to 150Mbps downlink and 50 Mbps Uplink). The 4G MiFi allows 800/900/1800/2100 Mhz bands on LTE and 900/1800 Mhz on GSM. It comes with WiFi 802.11 b/g/n along with the Receive diversity.
On the other hand, the Reliance Jio JioFi comes with an Altair ALT3800 processor and supports band 40 (TD 2300 MHz), 5 (850 MHz) and 3 (1800 MHz). It also comes with WiFi 802.11 b/g/n support.
While the Vodafone device supports up to 15 users at the same time, the Reliance Jio device allows you to connect up to 31 WiFi-enabled devices and a device through USB cable.
The Vodafone WiFi device comes with a dedicated microSD Slot that supports up to 32GB storage. It measures 87.6 x 59.6 x 12.9mm and weighs 78g. The 1800 mAh Li-Ion battery can last up to 7 hours upon a single charge.
The Reliance Jio JioFi measures 74 x 74 x 20mm and weighs 95g. It comes with a much larger 3000mAh battery. The microSD card slot supports up to 64GB storage.
The portable WiFi device comes with a WPS Authentication feature and standard WiFi password-based authentication. Additionally, a Hotspot Monitoring App allows you to monitor data consumption via a connected smartphone or tablet. The WiFi device also brings an intuitive plug and play web user interface.
Additionally, the Reliance device allows you to make video/ voice calls on a 2G/3G smartphones via the Jio4GVoice app.
Also read: Oppo O-Free Wireless Bluetooth Headset Launched In China
Conclusion
Over the past year, Vodafone has been competing with the likes of Reliance Jio, Airtel, and BSNL via prepaid/ postpaid plans. The new WiFi device is the latest step by the telecom giant to counter its rivals, specifically Reliance Jio. While it falls short of the Reliance Jio JioFi, we will have to wait and see how the new device is received by the customers. What do you think of the new Vodafone 4G MiFi? Will you go for it? Let us know in the comments section below.
Also read: New Xbox Being Made With Discussions With Game Developers
More related stories below: