A report published in Wall Street Journal, tells that Nokia is preparing to launch its first Android powered smartphone at the Mobile World Congress in Barcelona. This smartphone will be a mid-range budget smartphone that will help to increase Nokia's smartphones sales in emerging countries like India, China. But the interesting fact that comes in light is, this phone will not use Google-developed features that profits Google. It will be different from traditional Android-powered smartphone, as the report suggest. All this things will be done while Microsoft conducting due in deal to buy Nokia's mobile division. The report also says that Nokia engineers had been working to develop a good android smartphone.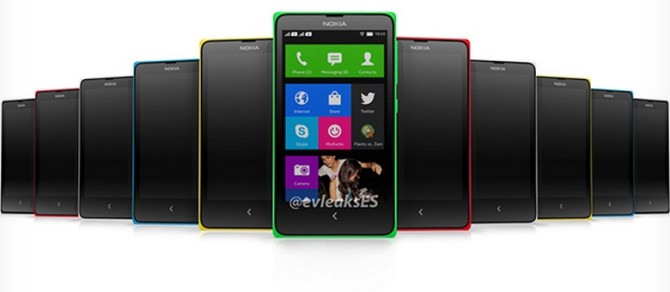 Report also tells that Nokia is developing this Android smartphone to boost sales volume and increase the profit. However, surprisingly report also tells that this new Android smartphone will not able to download applications from Google Play Store. Therefore, Google will not be able to earn profit from this smartphone. To provide its users more applications , Nokia, and Microsoft has built a suite of services that will include Here maps and Mix Radio and it will also come up with Nokia application store with Android apps.
Nokia is going to approach the same strategy that Amazon has done with its Kindle tablets. Amazon modified the version of Android for Kindle and made Kindle, as it will not able to install Android apps directly on it. The Google allows manufacture and vendors to modify its Android software and distribute it. The same approach Nokia is going to take with its first Android smartphone.
Currently, Google is top in the chart of mobile software. In India, according to International Data Corp. Android is on 93% of smartphones that shipped last year. Therefore, Google's Android is the top operating system for Smartphones. While if we talk about smartphone industry, Samsung, Apple and Google are in the top list here. As Nokia cannot develop a truly affordable smartphone on Windows, due to software's technical requirements. It has to come up with an operating system like Android, so that it can deliver a low cost smartphone too. So that it can compete with Samsung devices running Android.
It has been not so long time, we can recall it, Nokia was the best smartphone company dominating a big part of market share of mobiles. When it made a foolish move of abandoning its own software and done a deal of promoting Microsoft's Windows Phone software. Microsoft offered billions of dollars to Nokia to promote market and develop its Windows Phone Software. After that, we saw, Nokia has sold its handset business to Microsoft.  While at the other end Google's Android and Samsung became stars in the mobile industry.
For More Stay tuned with   Intellect Digest India   and like us on   Facebook   or follow us on   Twitter  .
More related stories below: