Chinese Smartphone maker Xiaomi had a grand entry in India yesterday for Mi3. Whereas the flagship device, has been sold within half an hour of its opening on an Indian shopping portal Flipkart. Not only this company also brought low-price strategy to wearables, and offering a smart wristband that will sell for a mere $13, the company announced on Tuesday.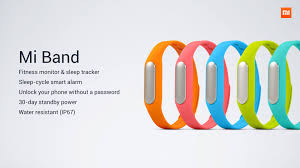 The smartband is called the Mi Band, the device is for measuring mainly the fitness with a 30-day battery life. But when worn, the wristband can also automatically unlock the user's smartphone when in close proximity. This gets rid of the annoying need to always input your password into your handset, Lei said.
Not only this but Band is water-resistant and has an alarm function that will vibrate the device when set.
"I believe this wristband will very soon become the world's best selling wristband," said Xiaomi's CEO Lei Jun during a product launch.
"The first time I tried Xiaomi's wristband, I couldn't put it down," he added. "Once you start using a wristband to unlock your phone, you won't go back."
So far no information on the availability and when it will be launched was shared But the Chinese company has been expanding globally, and is targeting ten foreign markets this year, with the eventual goal of reaching the U.S..
"We want Xiaomi to become an international brand that the Chinese people can be proud of," Lei said at the event.
More related stories below: