YouTube Music offers over five million audio tracks along with their official videos. Now, you can download music to an SD card. Read more to find about How To Download Songs From YouTube Music App To Your SD card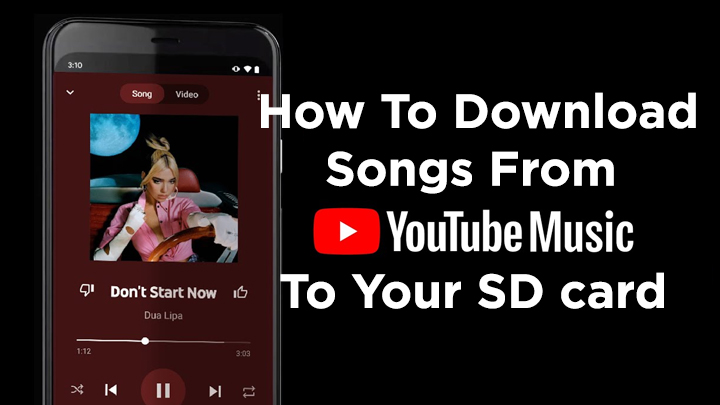 Both Google Play Music and YouTube Music offer ad-free experience at Rs 99 a month. On the other hand, the YouTube Premium subscription costs Rs 129 a month.
Recently, Google added an Explore tab to the YouTube Music app that brings 'New releases' and 'genres' options. It also added support for showing lyrics to users.
Additionally, users can now add up to 1,00,000 personal tracks to a YouTube Music library. The Google Play Music allows 50,000 tracks.
Now, you can easily download songs from the YouTube Music app to an SD card or your smartphone's internal storage with the Download button.
Also read: How To Control Streaming, Download Quality On YouTube Music
How To Download Songs From YouTube Music App To Your SD card
Install an SD card on your smartphone
Now, at the top of your screen, tap your profile picture
Next, tap Settings and select Downloads
Then, switch on Use SD card (Save music to the SD card)
Alternativley, you can save your music to your smartphone's internal storage.
You can also download videos to SD card in similar fashion. Just tap the Download button below the video, or select Download from a video's Menu Three-dot menu vertical. Wait till the Download button appears blue.
Note: If your device loses connectivity while you're downloading music, your download will resume automatically when you reconnect to a mobile or Wi-Fi network.
Also read: How To Use YouTube Music 'Smart Downloads' Feature To Save Up to 500 Songs
Note
YouTube Music was made available to Indian users in March this year. It is the latest addition to the growing market of OTT platforms. There are around 150 million monthly active users across platforms.
So far, the Google streaming service is not a big competition to the likes of Apple Music and Spotify. However, the addition of new features might make it more attractive to music lovers. Google had promised a more consistent update cycle for YouTube Music in August.
Also read: How To Switch Between Audio and Video On YouTube Music App
YouTube Music users can already control the quality of streaming and downloads. You can also choose between downloading audio on mobile data and on Wi-Fi. Google has added new options in the Settings menu as 'Quality controls'.
YouTube Music is now letting free users cast their uploaded music to devices and speakers. It is also expanding its Explore tab to include global YouTube Charts.
Google Play Music will stop functioning from this month on and the service will be replaced by YouTube Music. Google Play users have until December to transfer all their content to YouTube Music.
What do you think of the new features of YouTube Music? Share your thoughts with us in the comments section below.
More related stories below: