Besides cameras and media players, smartphones are also capable of audio recording. This often-ignored feature comes in quite handy in many cases. You don't need to be a musician or a journalist to use an audio recorder. It is a useful tool for keeping notes, ideas, and even messages. Looking for a good voice recorder? Read more to find 8 Best Voice Recorder Apps for Android Smartphone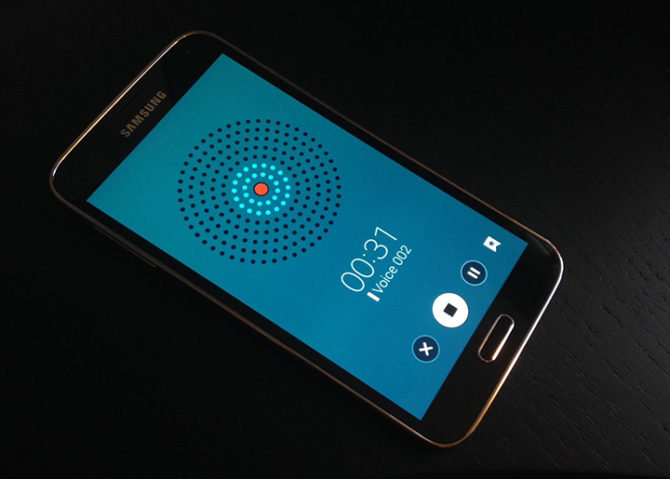 While most smartphones come with an inbuilt voice recording tool, third-party applications offer more options. Some of these allow you to capture noticeably better quality sound too. You can also attach external microphones if you want to further push the quality.
AndroidRecForge II
It's one of the best voice recorder apps out there. The RecForge II comes with a plethora of features including playback loop, pitch control, gain control, and tempo control. The powerful app comes with a built-in editor. It is perfect for long recordings. You can record music performances or long lectures.
Evernote
The note taking app comes with a voice recording function. You can easily take note sin your voice which is saved inside the app itself. Just record the audio and construct your note around it. You can access the recorded file on all your synced devices. Evernote offers cross-platform support for PC, Mac, and Linux. A paid subscription allows you to add more than a couple devices along with offering additional features.
Google Keep
This note taking app also supports voice recording. The Google Keep allows you to capture quick notes quite easily. Just like Evernote, you can access the recorded files on multiple devices. However, unlike Evernote, it is completely free to download and use.
Also read: 8 Best Voice Recorder Apps for Android Smartphone
Audio Recorder
This is one of the simplest voice recording apps. and easy to use voice recorder apps. It supports external microphones too. The Audio Recorder app allows you to record, save and upload to various platforms including cloud storage.
Voice Recorder
The simple app comes packed with feature. It allows you to record in PCM (Wave), AAC, and AMR formats. You can also record phone calls. Other cool features include a bitrate option and an intuitive interface. much more. Additionally, it is completely free to download and use.
Easy Voice Recorder
The easy-to-use app can be operated in few quick steps. Just open the app, hit the mic button and record. You can also share the recorded audio. Additional features include optional file types and widget support. It also comes in a paid version. The paid version supports stereo recording and Bluetooth microphone support.
Also read: How To Use Dark Mode On Your Apps For Late Night Reading
Snipback
While it offers all basic features of a voice recording app, the Snipback app comes with several additional features. It allows you to recapture up to 30 seconds of audio from before you started recording. Other features include audio quality selections, recording duration selections, and a noise reduction filter. The Snipback app is also free to use.
Hi-Q
The powerful voice recorder app records in MP3 format. You can play the recorded files almost everywhere. The recorded files can be immediately uploaded to Dropbox too. The app also comes with widget support. Other features include built-in WiFi transfer and gain control. A paid version will get you few more features.
Also read: How To Post On Instagram From Your Desktop
More related stories below: