Thanks to improving economic standards, people are engaging in interesting activities outside their comfort zone. Traveling is a great way to explore yourself and the world. However, it comes with its own challenges, language being a primary one. While most of the tourist destinations are filled with English speaking people, you might hit a roadblock with locals and lesser known places. Scared to step into a foreign world? Now you can use your smartphone to your advantage. Read more to find about 5 Best Translation Apps for Frequent Travelers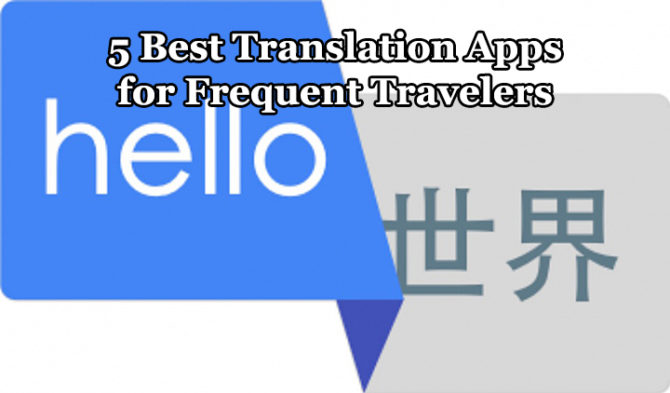 Google Translate
The common tool can be accessed from any smartphone. Google Translate offers a written translation for anything that you type, speak, photograph, or draw on your touch screen. It also provides audio translations for 38 of its supported languages (90). The impressive app can even listen to two languages at once and provide the spoken/ text translations for both sides of a conversation in real time.
However, sometimes Google translations can be a bit clunky. Also, the app is not too efficient with non-English characters. You can download translation packs of up to 50 languages for offline access. It is not perfect yet but offers great help for free.
iTranslate
The iTranslate app can translating text and spoken phrases. It also allows you to slow down or speed up the audio playback to get the accurate pronunciation. You can even save translations for future reference.
The app offers fast and accurate translations and supports 92 languages (with 27 offering voice translations). However, it struggles with non-English spellings. Also, it can't be accessed offline.
Also read: 9 Best Podcast Apps For Android Smartphones
TripLingo
This voice translator app offers several translations for given phrases including formal, casual, and slang versions. This provides you with a more sophisticated sense of the language than Google Translate. It also provides helpful phonetic guides. The app supports 23 languages (from Arabic to Vietnamese). However, the free version only includes 20 phrases per language. The paid version costs $9.99 per month.
Additionally, the TripLingo app comes with instructional phrase books, audio lessons, and tip sheets on local etiquette. The phrase books and tip sheets work without being offline as well. You can also connect you with a human translator for an extra fee ($24.99 for five minutes).
Jibbigo
The speech translator app is quite easy to use. Just select the output language and speak a sentence. The app will translate it out aloud. The voice recognition system is quite good. It is perfect for simple conversations while traveling around a foreign city. Its vocabulary contains over 40,000 words.
The Jibbigo app supports 21 languages. However, the speech feature is only available for 12 of those. You can get text translations for the rest. The app shows the received and the translated text on the screen.
Waygo
The innovative app uses your camera to translate signs and other written information. You can just hold up your smartphone camera to a written text and it will offer up an English translation. However, it only translates the Chinese, Japanese, and Korean text. Also, the free app is limited to 10 daily translations. The paid version costs $6.99.
The Waygo app offers most accurate photo translations to Asian languages. It can be accessed offline too. However, you have to keep the camera still. Also, it only translates few words at a time, which is fine for reading directions.
Also read: 5 Best Free Fitness Apps for Android Smartphones
More related stories below: