Podcasts are the best form of radio available nowadays. You can listen to interesting conversations on all sort of topics while traveling, exercising or just laying in your bed. Experts in various fields are just a few taps away. However, accessing these podcasts on your handsets might be little tricky sometimes. Let us help you in finding an easy solution. Here are 9 Best Podcast Apps For Android Smartphones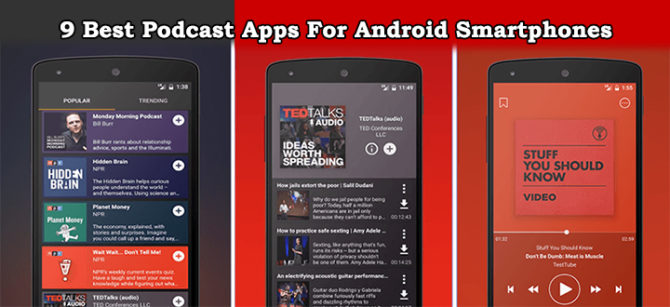 Google Play Music
While not the best podcast app out there, it is the easiest to access. It comes pre-installed in many smartphones. The Google Play Music hosts some of the biggest podcasts online. It sends notifications when new podcasts from your subscription are released. However, the app is still in the growing mode.
Radio Addict
The free app offers a decent set of features. The app supports both audio and video podcasts. You can choose your download preferences, widgets, themes, etc. It comes with Android Wear, Pebble (RIP), Android Auto, and Chromecast support.
Pocket Casts
Th paid app is considered one of the best podcast apps for Android. It sports a modern interface with a light and dark theme. You can control download preferences. The Pocket Casts app supports video and audio podcasts, and Chromecast. You can access your account from any Android device.
Also read: 10 Best Reading Apps For Android Smartphones
DoggCatcher Podcast Player
The paid app supports Chromecast, Android Wear, and even Android Auto. It comes with a light theme and a dark theme. The app allows you to control download preferences, add playlists, etc. It supports both video and audio podcasts.
BeyondPod Podcast Manager
The powerful app offers access to audio as well as video podcasts. It features a Holo-inspired design and is quite easy to navigate. Some of the cool features include Chromecast support, smart playlists, control over download preferences, widgets, and support for Feedly.
Stitcher Radio
The popular app hosts many popular podcasts. You can create custom 'stations' with your own playlist. Other features include e essentially a breaking news function and sharing.
Also read: How To Use Dark Mode On Your Apps For Late Night Reading
TuneIn Radio
The TuneIn Radio is quite popular among podcast and Internet radio fans. Apart from podcasts, you can also enjoy AM/FM radio talk shows.
SoundCloud
The free app is probably the most popular audio host out there. You can find a large number of independent podcasts on this app. However, you have to know what you are looking for. The app allows you to 'favorite' tracks for later listens.
RssDemon News and Podcast Reader
The free app serves multiple purposes. It supports both podcasts and RSS feeds. You can access all of your news and podcasts in a single spot. The app allows you to follow and download a variety of feeds and podcasts. The RssDemon News and Podcast Reader is also highly customizable.
Also read: 7 Best Comic Book Reader Apps For Android Smartphones
Which are your favorite podcasts and podcast apps? Share with us in the comments section below.
More related stories below: