Comic books mark a special time of your life. Additionally, they create imaginative stories in creative ways. While there are many comic book movie and TV shows these days, there's nothing like grabbing an actual comic book. However, the physical copies have their limitations. You can't always find what you are looking for. Thankfully, technology is a great boon for all comic book fans. You can easily access almost any comic on your smartphone itself. Ready to enter the amazing world of superheroes? Here are 7 Best Comic Book Reader Apps For Android Smartphones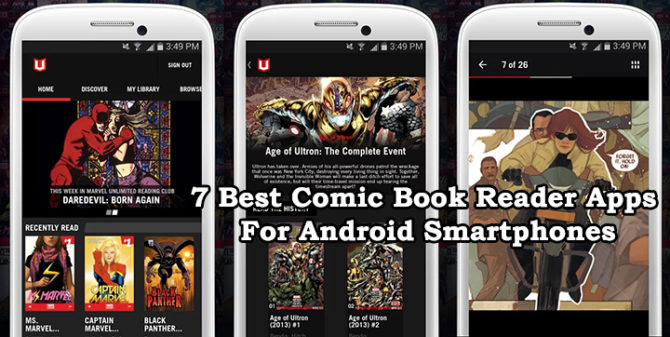 Comic Viewer
Whether you are using a low-end smartphone or a high-end one, Comic Viewer is a great app. It is one of the lightest apps in this list. The Comic Viewer (previously known as Droid Comic Viewer) supports multiple file types including CBZ/ZIP, ACV, CBR/RAR (beta), JPEG, PNG, BMP & image folders. While the free version of the app features advertisements, the premium version offers a clean reading experience.
Perfect Viewer
Perfect Viewer is a great app to access your comic books collection. The famous app features a simple interface and smooth functionality. It supports most file types including CBZ/ZIP, CBR/RAR, 7Z/CB7, LZH and PDF. However, to access PDF files, you will need to install a PDF plugin when prompted. The app also supports various image file formats such as JPEG, PNG, GIF, BMP, WebP, etc.
The Perfect Viewer displays your collection as a nice bookshelf. Just tap on a comic and start reading. You can also set bookmarks and add comics to a favorites section.
Also read: 10 Best Reading Apps For Android Smartphones
Comics by Comixology
The Comics app has a database of over 50,000 comics and graphic novels. It is one of the best apps for comic book lovers. The Comics app is powered by Comixology's trademark 'Guided View Technology' that allows you to easily scan, zoom and flip pages.
As its USP, the app features comics on the same day as their print release. The top publishers on the app include Marvel Comics, DC Comics, Image Comics, IDW and Disney. You can access all comics through the in-app purchases.
Marvel Unlimited
As the name suggests this app is specifically made for Marvel Fans. The official Marvel App offers access to almost all Marvel Comics ever released over last 70 years. It comes with a patented 'Smart Panels Technology' that enhances the reading experience on smartphones. As part of a super saver monthly offer, you can read over 15,000 comics for just $9.99 a month. Purchased comics can also be read offline.
Also read: 10 Best Photography Apps For Smartphone Users
DC Comics by ComiXology
DC Comics lovers can use this app to meet their favorite characters such as the Superman, Batman, Wonder Woman, and The Flash. The DC Comics app is powered by the unique 'Guided View technology' of ComiXology.
Apart from the latest comics, the app also offers access to the archives that include the legendary classics library. You can directly download the comics through the in-app purchases and start reading. The app also offers many weekly offers.
Madefire
The Madefire app is touted as the next big thing in digital comics. It integrates sound, motion and 3D views with the regular comics. You can read your favorite comics with additional media on your smartphones.
The Madefire app includes hundreds of digital comics from top publishers such as DC, IDW, Dark Horse, Oni Press, Liquid, Valiant and Top Cow. Apart from in-app purchases, users are also offered Weekly special free releases every Friday. Every Wednesday new comics are released in a featured day to day format.
Also read: How To Use Dark Mode On Your Apps For Late Night Reading
Manga Rock
Manga is the most famous comic book genre of last decade. The Manga stories offer a unique take on comic book medium. Manga Rock is the best Manga Comics app. It allows readers to download over 100 thousand Manga comics from 20 plus trusted sources. The app offers Manga comics in 7 different languages including English, Spanish, German, French, Italian, Chinese, and Vietnamese.
Do you use any of the above comic book readers? Which is your favorite Comic Book? Share with us know in the comments section below.
More related stories below: