Flat, two-dimensional photos are done to death. Also, they can only capture a limited amount of action. The new 360-degree photos allow viewers to look around in any direction from a single standing position. Many 360 degree cameras have been popping up lately. However, unlike 360 videos, you don't really need a special camera to capture 360-degree pictures. You can create your own 360-degree photo spheres with your smartphones. All you need a simple Google app and a functioning rear camera. Ready to give 360 a try? Read more to find How To Take 360 Degree Pics With Your Smartphone Camera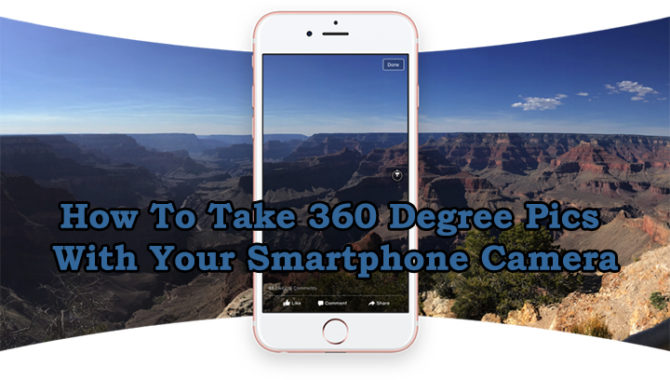 Download the Google Street View app.The first step to creating a 360 picture on your smartphone is downloading this app. The Google Street View app is quite intuitive and smoothly walks you through the entire process. You just have to point and click. Allow the access to camera roll, when prompted.
Choose an interesting subject to start the 360 photospheres.
Open the Google Street View app and click on camera option.
You will see an orange dot and a white circle. As soon as you align the two, the app takes the first picture.
Now, the app prompts to aim at targets all around you. Follow the initial point and click for each target. You'll have to take 44 different shots of the scene you're in.
The Google Street View app meshes all of your shots together to create your photosphere. The 360-degree image is automatically stored in your camera roll.
Share the 360-degree pics with your friends via Instagram or Facebook. Facebook render your captured image into a 360-degree picture. You can also use a third-party app such as 360 Panorama.
Note: If you editing the image in any way on your phone, it will not be rendered as a 360 image.
Also read: How To Use One WhatsApp Account On Two Phones At Same Time
Conclusion
This method is quite easy to use and offers unique results. Your 360-degree pics will stand out among the barrage of selfies on social media. Also, you can experiment to create interesting results or simply capture scenes in their entirety. You can share 360-degree photos everywhere from Street View to Facebook. To up your game, you can pick up a dedicated 360-degree camera which will let you shoot videos too. Excited to try this out? Share your tips and images with us in the comments below.
More related stories below: