Whether you own an iPhone, Android Phone or Windows phone, if you are using your smartphone for just making and receiving calls, then you are really missing out something! Owning smartphone is one thing while using it in a manner to make the most of out is another. In this post, we will take you through simple and essential tips for smartphone owners which will help you get more out of your smartphone. Read on to find tips and tricks to know what you can do to your smartphone if you're willing to go beyond just making calls.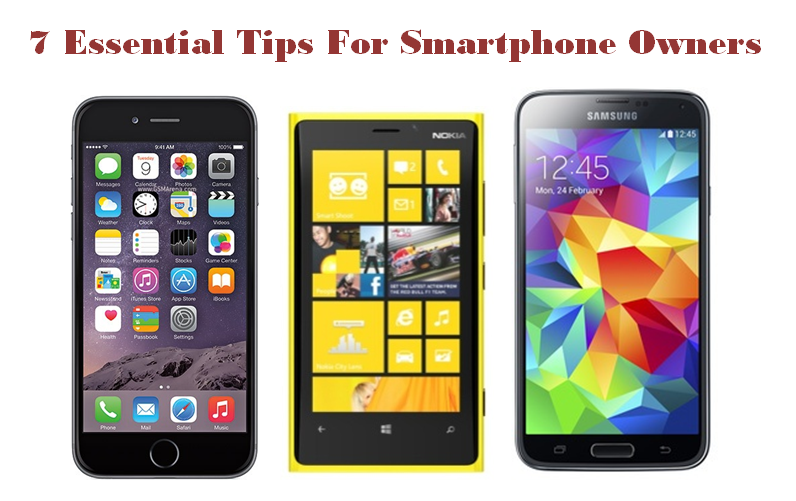 7 Essential Tips For Smartphone Owners
Here are some tips to get you started:
1. Sort Your Home Screen
Does the Home screen of your device looks like a mess? Do not keep your apps and folders unorganized, take out some time and sort the apps according to their genre or usage. Like you can sort the apps you use the most on the first page or you can make separate pages or folders for games or utility or music apps. Organizing the apps on your device will not only make your device look tidy but also it will save a lot of your precious time since you will not have to search the apps in whole mess. Avoid using live wallpapers and keep a check on the brightness of your device. For saving battery juice you can adjust the brightness according to your needs.
2. Move Your Data
Though smartphones come with some in-built storage, some of them come with microSD card slot, yet it is advisable to keep a back up of your data. You can keep the back up of your data on your PC or cloud storage. There are many cloud storages which let you store your data for free. If you think attaching a USB cable to your device and PC is cumbersome, you can transfer data between PC and your smartphone wirelessly as well. Not only this will save you enough of storage on your device, but it will save you from losing your data if your phone is stolen or misplaced.
3. Use Battery Saving Modes
Most of the smartphones do not survive for even a single day on one charge while many devices come with power saving modes or battery saving modes which smartphone owners are unaware of. All you need to do is to make some tweaks. Explore the battery settings of your device and make use of such modes to save battery on your device.
4. Know Your Shortcuts
Try to memorize shortcuts of your device at least for the functions which you use repetitively. For instance on iPhone, you can activate camera without unlocking the screen. Just click on the Home button, swipe the camera icon upwards on the locked Home screen and the camera will activate. There are many such shortcuts available in smartphones. You can also create your own shortcuts and gestures to get your tasks done at a faster pace.
5. Understand Your Camera
With the advent of smartphones with good cameras, our reliance on traditional cameras has faded. Smartphone cameras are handy, easy to use, save time and allow us to capture stunning images in a hassle free manner. Yet there are few things about the cameras on our devices which we are unaware of. Explore the camera settings on your device to enhance the photographs clicked by your device. Many smartphones come equipped with in-built editing tools, HDR mode, smile detection, gesture mode and more. Understand and make use of such features and tools to get the most out of your smartphone.
6. Know Your Data Usage
Refrain yourself from automatically updating the apps using cellular data as it will only lead to huge bill payments for unknown usage on your device. Use Wi-Fi on your device as much as possible but do not keep the Wi-Fi enabled for long when it is unused since it will keep searching for networks to connect and eat up your battery.
7. Enable Find My Phone
What if you have saved all your crucial data on your device and you lose it? Not only you will lose the phone but also the data saved on it. Make sure you enable the settings on your device which will help you remotely erase, locate, lock and call on your lost device.
Did you try the tips mentioned above on your smartphone? Share your views in the comments below! Check back again for more tips & tricks, how to guides and more!
Also Read: How To Speed Up Your Android Phone: 6 Essential Tips
More related stories below: