Android users can now essentially use the popular AirDrop feature. Google has also come up with its own version. Read more to find How To Use AirDrop Feature To Transfer Files Between Two Android Phones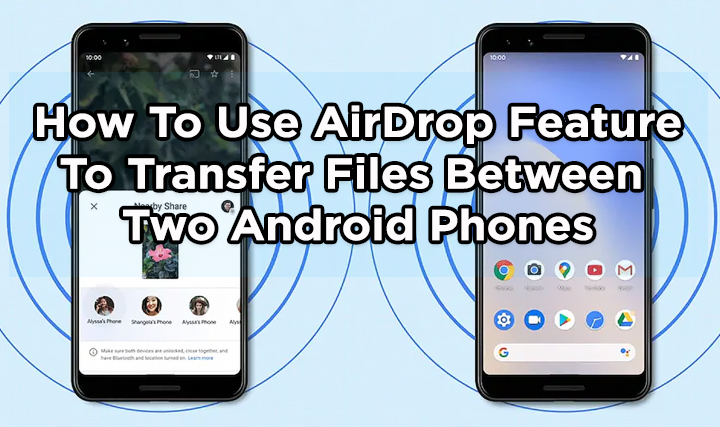 Apple's AirDrop feature allows users to quickly share files between Apple devices. Now, Android users are finally getting a similar feature.
Also read: How To Set Up Amazon Smart Plug With Alexa Support
The Google's version of the AirDrop for Android is called Nearby Share. It is available on smartphones running Android 6.0 or higher.
You can check if your handset supports this new feature, Go to your phone's Settings > scroll down a bit > select Google and tap Device Connections.
If your smartphone supports Nearby Share, tap Nearby Share to customize its settings – on or off, select Google account, device name, device visibility, data usage, etc.
The Nearby Share feature allows you to share a photo, a video, an app from Google Play, your location from Google Maps, and more.
Also read: How To Make "TikTok" Videos On YouTube Shorts
Once you get the new feature, you will spot the Share button on your smartphone, wherever you can use Nearby Share. Here"s how to use Nearby Share to transfer files:
How To Use AirDrop Feature To Transfer Files Between Two Android Phones
Open the file that you'd like to share and tap the share icon
Next, tap Nearby Share.
Now, your smartphone will start searching for devices nearby
Once it detects the receiver's phone, tap their device name
Then, the receiver needs to tap Accept on their handset to start the transfer
That's it! The transfer will be complete within a few moments
Note: The person you're sending the file to also needs to enable Nearby Share on their Android smartphone.
Also read: How To Use Split Screen on Android Smartphones
We hope the above-mentioned article was helpful. Let us know in the comments section below,
More related stories below: