"Wi-Fi Hangouts" is the latest pre-paid Public Wi-Fi service launched by Airtel. Although this service has been launched in Delhi, NCR, Mumbai and Bangalore but considering the present scenario it may soon spread out in other cities as well. This Wi-Fi Hangout will be available for access at several public spots like restaurants, cafes, clubs, etc. Though the paid Wi-Fi concept is not unknown in India but Airtel's initiative definitely provides it a new commercial touch to this domain that had been missing earlier.
Users will be able to use these Airtel public hotspots by activating 'Airtel Wi-Fi Zone" vouchers that are available on Airtel's official website. There are different vouchers available at various rates, depending upon the need the user may choose the voucher of its choice. The various plans that are available are: for Rs.20 (provides internet for 30 minutes), Rs.30 (provides internet for an hour), and Rs.50 (provides internet for two hours). All the three vouchers will provide the users with unlimited internet usage. Any further queries will be answered at toll free number 18001022244.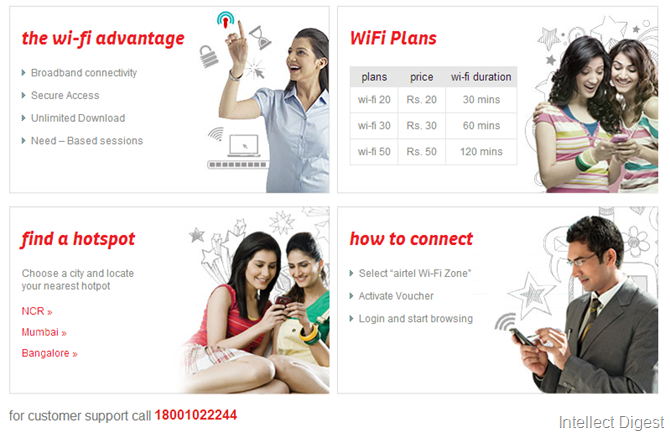 There is no information about what speed Airtel will provide but from what it seems the speed will be quite descent. To avail an 'Airtel Wi-Fi Hangout' establishments will have to register themselves on Airtel's official website along with their personal details. Through this move Airtel is browsing an opportunity to challenge established service providers in this field.
The service is simple to use. From what Airtel has stated on their website, the users will have to select Airtel Wi-Fi Zone, activate their vouchers, sign in, and start using net.
Lastly, Airtel has also launched its 3G services that gave its subscribers facility to share limitless data with two of its friends or three devices or any three of its family members. This particular plan is open for all prepaid and postpaid subscribers and it is mandatory for all the connections to have Airtel connectivity. Airtel right now stands as the top integrated service provider in India in telecom sector.
via- Airtel
More related stories below: